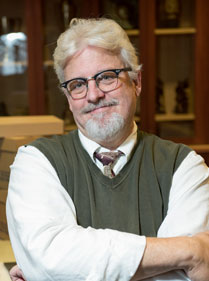 For the past three summers, professor of history and honors program director Phil Adamo has inspired and challenged student teams to research and collaborate in the writing of a comprehensive history of Augsburg College. This semester, the project has graduated to the classroom, where eight upper-level students will spend 15 weeks moving the book closer to its publication date in 2019, when Augsburg celebrates its sesquicentennial.
This history class is a first for Adamo, who has been honored with several teaching awards, including being named Minnesota Professor of the Year in 2015 by the Carnegie Foundation for the Advancement of Teaching and the Council for Advancement and Support of Education.
"It's not a content delivery class. I won't stand up and say Augsburg was founded in 1869 in Marshall, Wisconsin. There will be no tests and no content mastery expectations," says Adamo. Instead, there will be research and retrospective. Each student will write six pieces, about 1500 words long, that could wind up comprising about a third of the finished book. The students, who range in age and majors, including English and chemistry as well as history, will not only supply diverse viewpoints, but also gain enviable research skills and unique historical perspectives.
"Whatever Augsburg means to them can't help but become more personal. They'll be walking across the quad where all these people walked before them, and hanging out in Murphy Park, where students have been hanging out since 1872," Adamo says.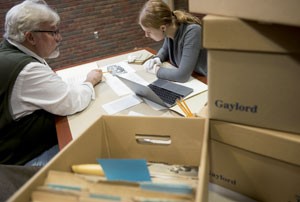 The class will begin by reading baseline histories, including From Fjord to Freeway, the book former history professor Carl Chrislock '37 published for Augsburg's centennial. They will explore structure, topic choice, and how the writing reflected the time, place and perspective. Then they will set about contributing to a fresh version of Augsburg history.
"We are now in a different time and place, and we want to address issues that Chrislock didn't address. We won't just be picking up the chronology from where he left off in 1969; we want to tell the whole story, from 1869 to the present. We will ask different questions," Adamo says.
Chrislock's history ended before the feminist movement, for example, thus excluding the effects of Title IX and women's expanding role in higher education. Course topics have also evolved, as has the composition of the student body.
"Augsburg looks different and has a different attitude. Even though we still proudly claim all sorts of connections to our Lutheran and Norwegian roots, we have changed dramatically," Adamo explains. "We are much more racially diverse, which can mean many things. The joke used to be that we were diverse because we allowed both Norwegians and Swedes to come to school here. Now we have the greatest percentage of students of color of any Midwestern school, which creates interesting challenges. For instance, how do we teach people of different cultures?"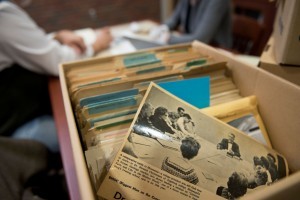 Chrislock was a political historian, Adamo points out. Like many Minnesota and U.S. historians, he relied on governing documents—presidents' letters, faculty and administration reports—for his research. Adamo is a social and institutional historian whose approach is much broader, focused on how people at all levels experience Augsburg.
"I want to know what's it like to sit at the coffee shop, or work on the grounds crew or at the radio station," says Adamo. For example, he wants to document how the campus newspaper has changed, from the Norwegian Ekko to the English Echo, then the hippie-influenced Whisper in the late '60s, then back to Echo.
A veteran author, Adamo anticipates the usual publishing process: some entries will be brilliant, some will need significant work, and some (including his own) will hit the recycling basket. Many collaborators, such as design students and a designated editorial board, will assist and receive credit, but he will have the final editorial say, as did Chrislock before him.
"History books tell the truth, whatever the truth is. We'll tell interesting stories in an honest way. Some will be wonderful and some not so wonderful," Adamo says. After 15 years on the faculty, he recognizes the resilience of Augsburg as well as the "lovable flaws" that sometimes impede progress. He says he has gained, among other insights, new admiration for the challenges administrators face on a regular basis.
"Every time I read anything for this project, I find myself falling in love with Augsburg all over again," he adds. "I am excited."