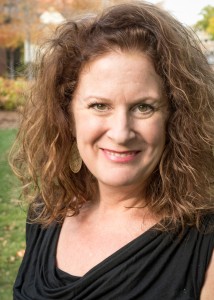 When Augsburg celebrates its sesquicentennial year, Associate Professor and Theater Arts Department Chair Darcey Engen '88 will have dual roles. She and Athletic Director Jeff Swenson '79 will co-chair the entire celebration, from the opening gala at Homecoming 2019 to the final wrap at Homecoming 2020. She will also oversee her own department's contribution to the festivities. Though the main events are still years away, it's already obvious that the veteran actor and director relishes playing both parts.
"It's not quite on the radar yet, but people are starting to get excited. And I am grateful and excited to be part of that process," Engen says.
She and Swenson have embarked on their mission with minds wide open, first collecting research from other institutions, then, last fall, visiting each department personally. "It's not about our personal vision, but about being expert communicators with our constituents—faculty, staff, students, friends, advisors. We're gathering our vision as a group. And we're just beginning," she says.
Celebration goals are multifaceted. "We'll be welcoming alums back, but we'll also be instilling in current students what a special time this is, and how lucky we are to be around for this monumental event. We want to capture the essence of what that means for each department and its current students as well as former students who are now professionals in their fields. That's the recipe people are wrestling with," adds Engen.
The year will encompass some signature annual events, though perhaps shaped somewhat differently for the occasion, as well as special events and projects large and small. Most departments are already noodling in earnest; Engen's theater department is one of them.
"I'm in love with and excited about an Ibsen play, 'Enemy of the People,'" Engen says. The Norwegian classic, circa 1882, could not be more relevant today; it involves both contaminated water and government corruption.
"One of the things that I love about it is that we will be entering into a national and international conversation about water. Flint, Michigan, is just the tip of the iceberg," she adds. "I happened to be writing the grant on the same day that Governor Dayton proposed the buffer initiative to improve water quality here in Minnesota. For me, it's important to do something meaningful that has an educational component and can also inspire audience members."
In 2013, Engen and her husband, Luverne Seifert, launched Sod House Theater, a company currently in residence at Augsburg. The troupe of professional performers, who often travel to small towns to mount productions alongside community players, is workshopping the play and using several translations to create a rough script, which they hope will be developed further by Sarah Myers, an Augsburg associate professor and playwright.
Engen hopes to eventually fill the stage with alumni as well as students, musicians, and actors. "Wouldn't it be lovely to have 30 people in the cast, and do it outside? And maybe make it a traveling production? For us, to be able to do a meaningful piece that will hopefully incite a passionate reaction—I can't think of a better recipe for success."
Such an accomplishment would also meet a celebration challenge Engen and Swenson are presenting to all departments.
"We want to capture the idea that after 150 years we are still here, in a neighborhood of immigrants. A very diverse group of people attend Augsburg now, diverse in faith and cultural backgrounds, and that's what makes it so incredible," Engen says. "This wonderful history we have is growing and changing. Augsburg is the world. It really is."