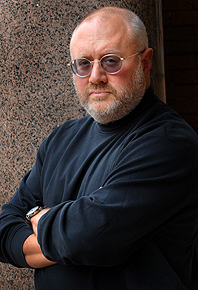 The history of an institution can be studied and celebrated from many different angles, one of which is its literary canon. Which Augsburg students and staff have been writing, about what, and when? What do these works say about its past, its character, and its evolution?
"We have been publishing Murphy Square, Augsburg's student-run literary journal, for more than 40 years," says English professor Doug Green, who has taken charge of the English department's contribution to the sesquicentennial celebration. "We had been talking about putting together a collection of poetry by John Mitchell, a popular professor who died about 10 years ago. That got me thinking, and I'm not alone in this, about whether we could put something together about what literature has looked like at the College. Why not an anthology? Murphy Square represents the start of an ongoing tradition."
A Shakespeare, literature, and creative writing professor for 28 years, Green writes poetry and creative nonfiction and has advised the annual literary journal on occasion. Like his colleagues, he has been published in it. But never has it undergone systematic review.
An anthology will require extensive planning, collaboration, and persistence. "When we started thinking about how we can look back at what's been done, we wondered whether material is even readily available," he says. "We know it's in the archives, and we have some old issues in our department, but first we have to digitize all that material."
This summer, with support from librarian Bill Wittenbreer and archivist Kristin Anderson, who are overseeing the digitization of the archival materials, Green and English Professor Dal Liddle will mentor undergraduate Abigail Tetzlaff's research on the new Murphy Square database. In addition to close reading, Tetzlaff is planning computer analyses known as "distant reading," a technique at the cutting edge of the developing field of digital humanities.
"For example, were there any words or images peculiar to the '70s? We might find out something about the nature of what people were writing about during certain times. That's very hard to do when you're just reading across issues," says Green, who has also enlisted support from Murphy Square advisor Cary Waterman and editor-in-chief Mary Cornelius.
The past few years, Green's creative writing seminar students have focused on readings that explore issues of originality, tradition, and the tension between them. Now he will have them apply those concepts to the anthology.
"What should it contain? Which work is the most valuable? Should we have something from every year? Should we focus on the best work? Can we have more than one piece by the same author? Must we have aesthetic criteria? What are the practical constraints?" Green will devote the next three fall terms to the editorial process, from selection to production, aiming for publication by 2020 at the latest. Both a physical book and a digital version may be in the works; much has yet to be decided.
"This is such a great opportunity to look back at what's been done. Student involvement is, for me, a big part of it. We can contextualize what the writing was about. What was going on in Minnesota then? We can study the models for literary journals in the '70s and see to what extent ours looked like—or didn't look like—them. We'll have the opportunity to do some biographical work on the people who published, to perhaps find them and see what they're doing now," Green says.
"I'm very excited about it. I'll learn a lot, even about the time I've been here. Were there movements? Literary styles? We won't know until we look at the whole run," he adds. "This is a great chance to collaborate with both students and colleagues, and I'm really looking forward to it."