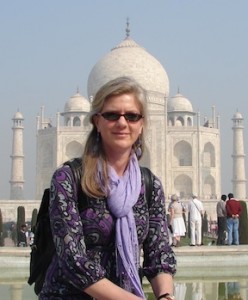 Imagine scores of Augsburg alumni returning for Homecoming in 2019. Then imagine them on a walking tour, standing outside their favorite landmark, remembering the way it was, and reviewing 150 years of history by clicking on a smartphone.
The ability to walk the streets in the present while seeing them in the past is no fantasy, thanks to the Historyapolis Project. What began as a practical solution to an ongoing need has blossomed into an expansive vision not only for the sesquicentennial, but also for the future of the city and Augsburg itself.
Two years ago, Jacqui deVries, history professor and director of general education at Augsburg, was searching for innovative ways to welcome new students to campus. "There was no good, comprehensive history of Minneapolis, nor of the Cedar-Riverside area. In conversations, we realized how much we needed something, a basic introduction not just for incoming students, but also for anybody who is interested in the neighborhood," she recalls.
She knew that the city had many hidden stories, and that if they were going to be documented, they needed to reside on a digital platform. An innovation grant from the Augsburg's president's office allowed deVries to hire Anduin Wilhide, a University of Minnesota doctoral candidate who is writing a dissertation on the area's immigrant history, to help Kirsten Delegard, Augsburg history department scholar in residence, develop a digital history tour of Cedar-Riverside. Delegard's popular Historyapolis blog on Minneapolis history provided a logical starting point.
"It was a beautiful confluence of things," says deVries. "We spent a lot of time talking it through, planning, writing, and researching what a digital walking tour should be. We're almost done."
The team had two goals. First, they needed a digital platform compatible with computers, tablets, and smart phones. They chose Curatescape, used to create similar applications for the Cleveland Historical Society and the College of William & Mary. Second, they wanted the tour to be map-based. A user strolling by Murphy Square or Trinity Lutheran Church, for example, would be able to click on the tags on a map. Each click would open pictures and text to explain not only the current structure or space, but also what may have preceded it.
"It's like an accordion—the more you click, the more it will open, and the more you will see," deVries says. "It's a lot of work. You have to have a historian. You have to have a digital history person. You have to have some money, and you have to have a vision. We're very excited about it."
Although the project has been slowed by the severe injuries Delegard suffered in a car accident, the material is now ready to be uploaded to the website and online platform. And although the initial walking tour will meet the immediate needs of new students, deVries has bigger ideas.
"Once we get the app up and running, we want to build additional tours and materials, and engage students in that process. For starters, we'd definitely go deeper. We could send students to the Brian Coyle Center to conduct oral histories, for example, so our tour could have small podcasts attached to it. Or they could go to the Minnesota Historical Society and dig out what has already been recorded. Users would then see history through the eyes of those who were there, in that moment," she says.
Students could create tours for other neighborhoods as well—Milwaukee Avenue, for instance, or Franklin Avenue, which would impart the story of the freeway that sliced a neighborhood in two. The possibilities are many, and deVries is hoping for grants that will fund such endeavors in the near future. But her dreams don't stop there.
"We have a vision not just for this project, but also for building into the Augsburg curriculum something called a humanities lab, like labs for science students. We could start with history students but go beyond that, collaborating with design, information science, and other departments," she says, pointing out that students who have worked with Delegard on digital projects have gone on to plum jobs and top-notch graduate programs.
"Universities and other employers are now hiring digital humanities specialists, and we would love to see a digital humanities program staffed and funded," deVries adds. Imagine alumni returning in 2019 not only to celebrate Augsburg's past with walking tours, but also to celebrate its future leadership in the rapidly evolving world of education.