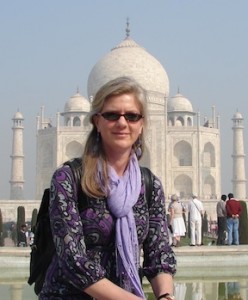 Imagine scores of Augsburg alumni returning for Homecoming in 2019. Then imagine them on a walking tour, standing outside their favorite landmark, remembering the way it was, and reviewing 150 years of history by clicking on a smartphone.
The ability to walk the streets in the present while seeing them in the past is no fantasy, thanks to the Historyapolis Project. What began as a practical solution to an ongoing need has blossomed into an expansive vision not only for the sesquicentennial, but also for the future of the city and Augsburg itself.
Two years ago, Jacqui deVries, history professor and director of general education at Augsburg, was searching for innovative ways to welcome new students to campus. "There was no good, comprehensive history of Minneapolis, nor of the Cedar-Riverside area. In conversations, we realized how much we needed something, a basic introduction not just for incoming students, but also for anybody who is interested in the neighborhood," she recalls.
She knew that the city had many hidden stories, and that if they were going to be documented, they needed to reside on a digital platform. An innovation grant from the Augsburg's president's office allowed deVries to hire Anduin Wilhide, a University of Minnesota doctoral candidate who is writing a dissertation on the area's immigrant history, to help Kirsten Delegard, Augsburg history department scholar in residence, develop a digital history tour of Cedar-Riverside. Delegard's popular Historyapolis blog on Minneapolis history provided a logical starting point.
"It was a beautiful confluence of things," says deVries. "We spent a lot of time talking it through, planning, writing, and researching what a digital walking tour should be. We're almost done." Continue reading "Digital Walking Tour Uncovers Hidden Stories of Minneapolis" →