Location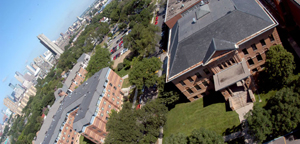 Augsburg College was founded in 1869 in Marshall, Wis. The College moved to Minneapolis in 1872.
Religious Affiliation
The Evangelical Lutheran Church in America (ELCA). Although 21 percent of students are Lutheran, 13 percent represent the Roman Catholic Church, 22 percent represent other Christian denominations, and 7 percent represent other religions.
Accreditation
The Higher Learning Commission of the North Central Association of Colleges and Schools, National Council for Accreditation of Teacher Education, Accreditation Review Commission on Education for the Physician Assistant (ARC-PA). Approved by the American Chemical Society, Council on Social Work Education, National Association for Music Therapy, Inc., National Association of Schools of Music, and the National League for Nursing.
Member
Associated Colleges of the Twin Cities, Lutheran Education Council in North America, Minnesota Private College Council, CIC, AACU, AAHE. Registered with the Minnesota Higher Education Services Office.
Enrollment (Fall 2014)
3,464 students
Day programs: 1,945
Adult Undergraduate program: 449
Graduate programs: 823
Master of Arts, Education: 272
Master of Arts, Leadership: 75
Master of Arts, Nursing: 47
Master of Business Administration: 138
Master of Fine Arts, Creative Writing: 32
Master of Music Therapy: 9
MS Physician Assistant: 85
Master of Social Work: 117
Doctor of Nursing Practice: 48
Undergraduate Day (Fall 2014)
Students of color: 33%
International: 3%
Total Augsburg Students (Fall 2014)
Students of color: 26%
International: 2%
Average age
Undergraduate Day – 21
Adult Undergraduate – 35
Graduate – 35
Gender
Undergraduate Day – male 49%, female 51%
Adult Undergraduate – male 35%, female 65%
Graduate – male 28%, female 72%
Housing
Resident day students, 49%  (79% entering first-year)
Geographic origin of students
34 U.S. states and 51 countries
65 international students
Graduates
Nearly 29,000 alumni since 1869.
Most Declared Majors (Undergraduate Day Program)
Biology
Psychology
Management
Exercise Science
Computer Science
Social Work
Elementary Education
Marketing
Student/Faculty Ratio
15 to 1.
An average class size of 17.
Campus
18 major buildings. Major renovations in 1979-80 with special emphasis on accessibility.
Accessibility
Augsburg is now one of the most accessible campuses in the region. A skyway/tunnel/elevator system provides access to 12 major buildings without going outside.
Degrees Granted
BA, BS, BM, MA, MBA, MS, MSW, DNP
Cost of education 2013-14
Financial Aid
Over 98 percent of undergraduate day students receive some form of financial aid from the College and many other sources.
Library
More than 190,000 items, direct access to more than 2.5 million through CLIC, the Twin Cities private college library consortium. The James G. Lindell Family Library opened in September 1997.
School Year
Undergraduate and graduate programs: two semesters from September to May, one summer semester from May to August.
Off-Campus Programs
The Office of International Programs offers study abroad programs throughout the world, including Augsburg's own Center for Global Education and International Partners programs. Augsburg is also a member of the Higher Education Consortium for Urban Affairs (HECUA).
Athletic Affiliation
Minnesota Intercollegiate Athletic Conference(MIAC), and National Collegiate Athletic Association (NCAA), Division III.
Policy
Augsburg College, as affirmed in its mission, does not discriminate on the basis of race, color, creed, religion, national or ethnic origin, age, gender, sexual orientation, gender identity, gender expression, marital status, status with regard to public assistance, or disability in its education policies, admissions policies, employment, scholarship and loan programs, athletic and/or school administered programs, except in those instances where there is a bona fide occupational qualification, or to comply with state or federal law. Augsburg College is committed to providing reasonable accommodations to its employees and its students.
Majors and Programs
Augsburg College offers a variety of undergraduate and graduate degrees for traditional and non-traditional students. For a complete list, visit the Majors and Programs page.