Senior Allison Zank '14, recipient of the Pastor George J. Knudson Memorial Scholarship award this year, delivered a homily in daily chapel two weeks ago, entitled "Letting God Speak for Himself."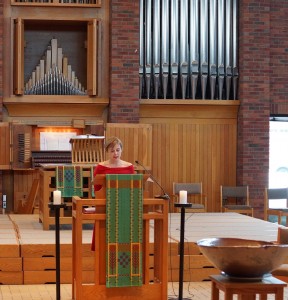 Allison, a Chemistry major, shared how a scientific explanation of the expansion of the universe and how learning about the cosmological constant, a number which holds the universe in place, brought her to a new understanding of God and how he speaks to us.  She stated, "…he who has flung the stars into the universe is revealing himself to us through science and in fascinating ways if we only have ears to listen."
Her experiences and path from "reluctant atheist" to her statement, "I am a Christian," recall the conversion of her scholarship namesake, George Joakim Knudson, almost a hundred years ago.  George was born on a western Minnesota farm in 1903. At the age of 19, he had a spiritual awakening during a series of meetings led by the Augsburg Quartette.  George was confronted with the challenge of commitment to Christ and that of Christian ministry. Not able to find peace without it, he accepted this calling and worked to finance six years of higher education at Augsburg College and Seminary.  Pastor Knudson served God in Lutheran churches for fifty-six years.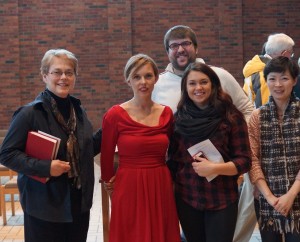 George's three daughters, Phyllis Seim '58,  Audrey Boettcher '54, and Irma Thorpe, endowed  the Pastor George J. Knudson Memorial Scholarship through their financial gifts in 1998. They created this fund in honor of their father, who served on the Board of Trustees of Augsburg College and whom they remember for his faith, his positive attitude, his graciousness and humility. Over the life of this fund, twelve awards have been given, the most recent to Allison Zank '14, whose example reminds us that if we carry God inside us, he will speak through us to others.
PS:  The Augsburg Quartetes travelled to and sang in many small towns in the Upper Midwest to encourage and maintain a strong relationship between Augsburg and the congregations that support it, especially reaching out to youth.  Read more in a book that recounts the history of the Augsburg Quartets, The Augsburg Quartets: A Mission-Driven Tradition, written by Merton P. Strommen and David M. Larson.