A Message from President Pribbenow:
Yesterday morning we learned that legendary coach and faculty emeritus Edwin Saugestad passed away Thursday after a battle with pancreatic cancer. Ed, 77, served as a coach, teacher, and mentor for hundreds of Auggies during his long and illustrious career.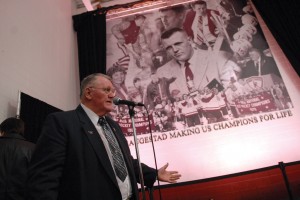 Ed graduated from Augsburg College in 1959 with a double major in physical education and biology, and continued his connection with Augsburg through a 37-year coaching career—beginning in his senior year when he was both a hockey player and coach for the team. By the time he retired as hockey coach in 1996, Ed ranked second in career wins in National Collegiate Athletic Association (NCAA) Division III history, compiling a 503-354-21 record, and that's just the beginning of his accolades.
Ed's teams won Minnesota Intercollegiate Athletic Conference (MIAC) titles six straight years (1977-82), qualified for national tournament play 10 times, and won the National Association of Intercollegiate Athletics (NAIA) national championship in 1978, 1981, and 1982. Ed, himself, was inducted into Augsburg's Athletic Hall of Fame in 1978, and was named NAIA National Coach of the Year three times and MIAC Coach of the Year six times. The MIAC even christened its playoff championship trophy as the Ed Saugestad Trophy after he retired.
In 2002, Ed was awarded the American Hockey Coaches Association's John MacInnes Award to honor his contributions in the growth of amateur hockey in the United States, and in 2007, he was named the Hobey Baker Legends of Hockey honoree. In 2010, Augsburg dedicated its main competition ice rink in honor of Ed. The Ed Saugestad Rink is used extensively by Augsburg's men's and women's ice hockey teams, and by a wide range of Twin Cities sports teams, clubs, and organizations.
In addition to his hockey coaching duties, Ed taught in the Health and Physical Education Department throughout his career. He also served as the College's men's athletic director and on the Augsburg football coaching staff for many years. Ed earned his master's degree from the University of Minnesota and was awarded faculty emeritus recognition by the Augsburg Board of Regents in 1998. The Augsburg Athletic Department also named its academic award for male student-athletes the Ed Saugestad Academic Award.
There will be a memorial service for Ed on Thursday, April 3, at 2 p.m. in the Hoversten Chapel.
In the meantime, our thoughts and prayers go out to Ed's family and all of us whose lives Ed touched. As it says on the mural displayed in the Augsburg Ice Arena in his honor, Ed made us "champions for life."
Obituary (Star Tribune)
Pioneer Press
Sincerely,
Paul C. Pribbenow
President