For the first time – Augsburg Associates and Augsburg Women Engaged (AWE) came together to launch an intergenerational event for Auggie women – alumnae and friends!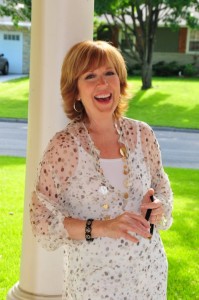 Author, speaker and former KARE 11 and HGTV personality Joan Steffend spoke with more than 100 Auggie women on campus on Saturday, May 17 to explore how women handle life's many gripping expectations.
During Steffend's keynote address she said she spent her first 50 years of life trying to measure up to the expectations of others at the expense of inner peace.
As a young child, the red-headed, Cambridge, Minn.-native enjoyed reading, imagining and performing, but felt guilty for not being like others. She often felt lonely and looked for ways to capture the love and attention of even those closest to her.
She studied with Warner Brothers, got married, had children, was a local- and cable-TV personality, and bought a cabin, but still didn't feel like she was measuring up. She felt an unsettling lack of joy.
Steffend finally had a paradigm shift at age 50 after her only sister passed away from cancer. The gut-wrenching loss helped Steffend put her own life in perspective. She realized she had spent her whole life ignoring her true self and that she was ultimately responsible for her inner peace.
Steffend, now a 58-year-old author and speaker, said she doesn't spend time apologizing for who she is anymore.
"I have my own ruler," she said, "and I am measuring up!"
Steffend's keynote address was accompanied by inspirational musical performances from alumnae Laura Schmidt '11 and Becky Shaheen '11 and thought-provoking comedy performances from the writers and actresses of "2 Sugars, Room for Cream," Carolyn Pool '91 and Shanan Custer.
Steffend's story was used to kick off the table conversations where participants answered specific questions about their life's journey so far. Attendees engaged in multi-generational small-group discussions, facilitated by alumnae table hosts, about the challenges and victories of measuring up to their own expectations and those of others.
"It was a great event to reflect on whether I am internalizing social expectations or I am living and being myself," said one attendee.
Other attendees raved about the wonderful variety of women with whom they had a chance to ineract.
"[It was] so great to speak with other women from different walks of life," said another attendee.
The inspirational morning was rounded out by an alumnae panel involving author, teacher and social worker Lee Furman '61; Minnesota's first Native American lesbian legislator Susan Allen '92; and Vietnamese immigrant Tina Nguyen '08. The three panelists spoke about building their faith and confidence to defy the odds of succeeding in cultures very different from their own. It concluded with meaningful reflection from Abigail Crampton Pribbenow who shared her own perspective of how she feels she is measuring up.
The "Am I Measuring Up?" event was a collaboration between the AWE Advisory Board, the Augsburg Associates Board and more than two dozen Auggie volunteers. The two boards look forward to collaborating more to provide Auggie women the opportunity to connect, learn and give.