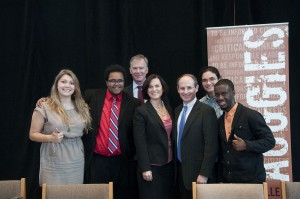 The Minnesota Urban Debate League serves young people in Minneapolis and St. Paul through academic competitive debate. The Mission of MNUDL is to empower students through competitive academic debate to become engaged learners, critical thinkers, and active citizens who are effective advocates for themselves and their communities. Students deeply engage with the annual topic through in-depth research, analyzing data, and defending different policy options.  This process increases their critical thinking, reading comprehension and public speaking skills exponentially. MNUDL currently serves 600 students at 30 high school and middle school sites in Minneapolis and Saint Paul.  Participating in debate has a great impact on students' long-term goals. Ninety-nine percent of MNUDL debaters attend college, and Augsburg College is welcoming the second cohort of MNUDL program graduates this fall.
As a Greeter, Judge, Lounge Staffer, Assistant Coach, Team Volunteer, or Ballot Runner, you'll help to diversify the pipeline of future leaders in business, law and the community, and meet other leaders in the field who are committed to their community! If you are interested in volunteering, please contact: Mai Yer Vang, Community Outreach Coordinator, at vangmy@augsburg.edu, or 612-330-1730.
Groups interested in getting involved with Minnesota Urban Debate League, please contact Amanda Scherer at corporate and foundation relations at 612-330-1720, or scherera@augsburg.edu.