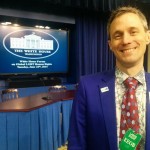 Augsburg alumnus Ross Murray '00 recently attended the inaugural White House Forum on Lesbian, Gay, Bisexual, and Transgender (LGBT) Human Rights. Ross currently serves as the Director of News for GLAAD, a non-profit media advocacy organization for the LGBT community. Murray has also been listed by Mashable as one of 10 LGBT Rights Activists to follow on Twitter. Following the visit to the White House, we caught up, to ask Murray a few questions.
About Ross
Through my advocacy as Director of News at GLAAD, the nation's media advocacy organization for the LGBT community, I spend a lot of time sharing the stories of a wide range of LGBT people. One of those areas has been labeled Global Voices, a program that shares the stories of people all around the globe advocating on behalf of LGBT causes, in addition to building media attention around the draconian anti-gay laws in places like Uganda, Russia, and Nigeria.
How did your invitation to the White House Forum on LGBT Human Rights come about?
The White House used the fact that June is celebrated as Pride Month, to hold a convening on LGBT and international human rights. I was invited, along with leaders from the nonprofit, advocacy, corporate, and international community. We listened to Ambassador Susan Rice and notable guests describe what the Obama administration is doing to advance LGBT and human rights abroad. We also participated in panels and breakouts to tell the administration what other steps are needed.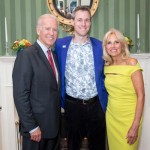 How did you prepare for this event?
My preparation was mainly my background working on LGBT issues globally. I felt good that I was aware of all the steps that the U.S. has taken, and what actions our leaders are still considering. I also thought that the most valuable part was listening to the LGBT advocates from Uganda, Kenya, Russia, Argentina, and China. In fact, one LGBT leader, whose work I have admired for so long, made the most memorable statement in a breakout session: "If Obama says that Uganda should not persecute gay people, then it will be seen as Western imperialism. But if celebrities like Christian Renaldo, Jay-Z, or Rihanna say the same thing, then the young people will follow what they say."
How did your education at Augsburg College prepare you for your role at GLAAD?
My passion for advocacy really was sparked in my time at Augsburg College. My undergraduate degree in Youth & Family Ministry has been a foundation for the work that I do. I resisted being an advocate, but my time with faculty like Doug Green, Janelle Bussert, Mark Tranvik, Robert Groven, and Pastor Sonja Hagander really helped me integrate my learning and apply it out in the wider world. Then, later, when I did my MBA at Augsburg, I learned to think strategically and act smartly.
What advice would you give to current Auggies about advocacy work?
Augsburg already puts a great emphasis on engagement with the community and the world. I think that Auggies need to look inside themselves to see where that passion lies…where they are called in the world. It takes time, and no one can do it alone. I've been blessed to be able to follow my passion, and I encourage others to find ways that they can help make the world better for others.