Augsburg College alumna Beverly "Bev" Benson '81 announced this summer that she will be running for Judge in the 4th Judicial District of Hennepin County. Supporting her in the campaign are many other Augsburg alumni, including Kristine Johnson '81.
Official Announcement to Augsburg College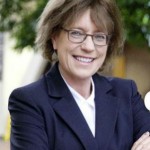 Bev Benson, Augsburg Class of 1981, has announced she is running in November, to fill an open Judicial Seat on the Hennepin County Bench.  This means that there is no incumbent.   Former Augsburg graduate Kristine Johnson, Class of 1981, is a member of her campaign staff.   She has numerous other Augsburg graduates supporting her campaign.
Ms. Benson has been a prosecutor for 28 years, 25 years in Hennepin County, and 3 years in Stearns County.  She has specialized in the prosecution of domestic abuse, child abuse, sexual assault and homicides.
She has been a presenter and trainer at the national and state levels.  She has also been a member of groups funded by the US State Department to do training for judges, prosecutors, defense attorneys and police in two provinces, formerly part of the Soviet Union.
She has 15 years of experience moderating League of Women Voter candidate forums, as well as being a former president of her local Wayzata/Plymouth League of Women Voters.   Other personal volunteer service activities include presenting trainings on domestic violence at the Minnesota Indian Women's Center and the Rape and Sexual Assault Center.  She has volunteered as a reader to second graders at the Nellie Stone Johnson Elementary School.  She volunteered her time and energy toward various projects at Oak View Elementary School and Cedar Island Elementary School in the Osseo-Maple Grove School District.
If you have any further questions, feel free to contact her by way of this email address:  bevbensonforjudge@gmail.com and on Facebook at:  "Bev Benson For Hennepin County Judge".