Between laughs and conversation at a 2005 gathering of five Auggie friends, one of them suggested that they really ought to plan to meet once a year. They readily agreed, and Christian Shada '03 says that he and his friends have gathered annually since then—sometimes for weddings, but most often for camping or weekends of simply hanging out together, catching up on news, and playing games.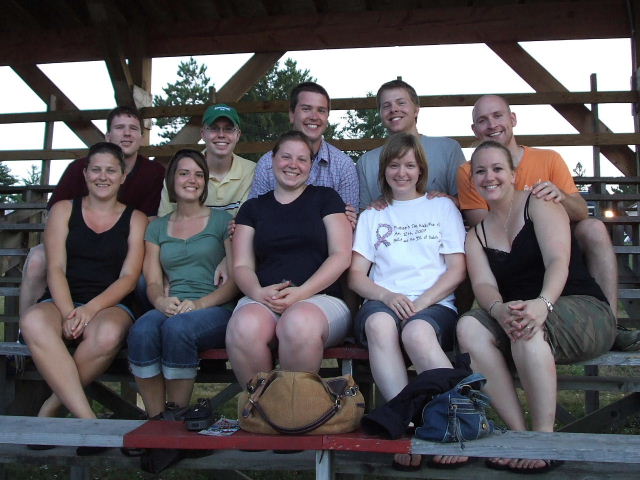 Over the years, the size of the group has expanded to include an additional Auggie (Laura Wade Machacek '04) and her spouse Joe Machacek, as well as the group's nine children (with one on the way). Geographically, they are fairly close to each other (Minneapolis area, Rochester, and southern Wisconsin), so travel is relatively easy. The task of planning their events is shared so that one person doesn't get burned out, and everyone keeps their antennae out for central locations that would work well. Usually, all it takes is a couple of phone calls and a few e-mails to get things organized, says Shada. Camping in tents—sometimes in state parks—can be a great way to start the tradition at a reasonable price, and provide fodder for some great storytelling in future years.
Some activities the group has enjoyed include badminton, Trivial Pursuit, pontoon rides, museum visits, and plenty of options for the kids (swings, climbing, merry-go-rounds, blowing bubbles—you get the idea). And at day's end, what could be better than roasting marshmallows and sharing conversation with good friends around a nice fire? They even set up their own version of the Olympics, which provided a favorite memory, the egg toss.
When the group last gathered, they stayed in a spacious cabin at Cedar Valley Resort in Whalan, Minn., "Home of the World's Best Pie." The group (pictured above) numbered 21 and included: (top row, left to right)—Ryan & Kellen Lambeau, Kara (holding Elsa) Zetzman, Andrea & Harrison Shada, Brad (holding Lilly) Motl, Laura (holding Delaney) Machacek; (bottom row, left to right)—Andy (holding Oliver) Zetzman, Grant (holding Autumn) & Karin Jordahl, Christian (holding Atley) Shada, Sarah Motl, and Joe (holding Brennan) Machacek. The group could start their own community, Shada says, with the wide diversity of professions represented—teacher, writer, loan officer, professor, gambling regulator, attorney, as well as professionals in HR, marketing/sales, surveillance, and the medical arena.
Now that Augsburg Homecoming 2014 is a memory, there may be others who want to pick up on this great way to stay connected with Auggie friends and, at the same time, guarantee a relaxing vacation.