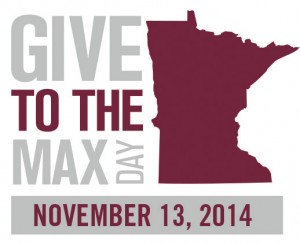 November 13 is nearly here, and it's already time to schedule your gift for Give to the Max Day. Let's repeat last year's outstanding effort, in which 837 Auggies gave $313,639 in just 24 hours—more than any other Minnesota college and university. We're going to see this success again.
In honor of what's going to be another great day in Auggie history, we are counting down the 15 Reasons to Give to the Max on November 13. We're looking to reach 1,001 Auggies this year. Every gift counts! Why are you Giving to the Max for Augsburg?
Give … in honor of an Auggie you love … an Auggie who was there for you,
A professor who saw a little something more,
A team that made you believe.
The school that was there for you is there for 3,500+ students today. It is part of their work here on campus to give back.
With 98% undergraduate day students receiving financial aid,
And more than 90% of graduates fully employed or enrolled in graduate school after graduation.
When you give to Augsburg College, you're part of something bigger. And isn't that why you're an Auggie? Together, we can be #1 on Give to the Max Day, among all Minnesota colleges and universities, once again!
In a nationwide survey, 65% of college students have not purchased a textbook because of the price. Supporting the Augsburg College Textbook Fund is just one of the 34 projects you can support on Give to the Max Day that help students, faculty, and the entire Augsburg community participate, share resources, and compete.