Augsburg College Campus Kitchen was founded in 2002, and is now the most comprehensive Campus Kitchen organization in the United States, and is one of only two colleges in Minnesota offering the program.  Augsburg Campus Kitchen provides 18,000 meals annually to the surrounding neighborhoods, mostly derived from overages in Augsburg's student food service—food that would otherwise go to waste.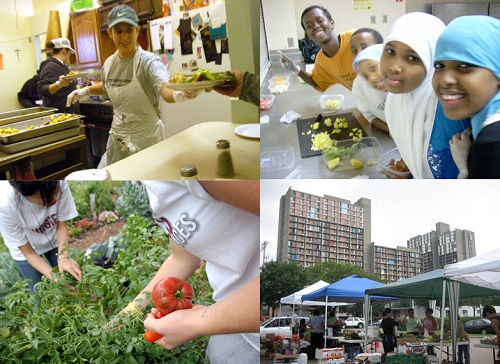 Campus Kitchen provides free meals and healthy food through three different activities: meals created from the overages of the on-campus dining facility and served at neighborhood non-profits, produce gathered as donations from local farmers at area farmers markets and brought to local food shelves, and an on-campus food shelf that students in need can access from a student-run food shelf.
Foundation support:  
The success and growth of Campus Kitchen is strongly supported by local corporations, who value the opportunity for their employees to engage more deeply with their communities, and live their values as corporations. Ameriprise Financial awarded Augsburg College Campus Kitchen a $5,000 grant in September 2014. Ameriprise understands that small nonprofits require consistent streams of general operating support, and has supported Augsburg College Campus Kitchen since 2009.
Land O'Lakes also awarded Campus Kitchen a $10,000 grant in October 2014. Land O'Lakes supports programs that alleviate food insecurity, and this is the first grant award from Land O'Lakes for Campus Kitchen. Thank you!
Interested in learning how to get involved?  Check out the Augsburg College Campus Kitchen's website and Facebook page.  Don't forget to support Campus Kitchen on Give to the Max Day!  Give or schedule your gift here.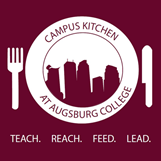 Augsburg College Campus Kitchen 2013 Impact
17,000 meals served per year
14,000 pounds of produce recovered
30,000 pounds of produce gleaned from local Farmer's Markets
100 visits to the campus food pantry
6 community partners
3,000 volunteer hours contributed
360 dedicated volunteers
100 community garden plots
13,000 pounds grown in the community garden