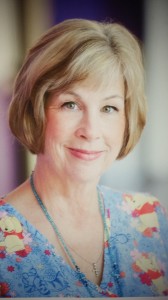 With two sisters and a mother as strong role models, Lani (Langanki) Hollenbeck '77, MAN '11 wasn't surprised by the rewards of working with fragile newborns and their families. But, drawn into nursing after having already earned her B.S. at Augsburg in Social Work, she discovered that combining the two areas allowed her to expand her worldview practice by looking at new ways of supporting those families at a crucial time—in the midst of challenging healthcare situations.
In her work as a staff nurse at the Minneapolis-based Infant Care Center of Children's Hospitals and Clinics of Minnesota, she supports parents as they nurture their newborn infants. Recently named 2014 Nurse of the Year by March of Dimes neonatal, Children's Hospitals and Clinics, and Minneapolis-St. Paul Magazine, Hollenbeck knows it is hard for parents when births don't go as planned or babies arrive too early, and she has always felt drawn to help them and their tiny babies. She believes these little ones deserve nurses who are committed to supporting their little bodies and souls for survival, growth, and development.
Encountering various challenges over the years in interacting with families from different cultures, Hollenbeck has learned first-hand the importance of listening and "walking alongside" them in their journeys. Perhaps her greatest challenge was caring for a family from the United Arab Emirates, whose beautiful curly-haired, brown-eyed infant experienced multiple complex healthcare needs that were potentially life-threatening. Despite differing languages, cultures, and underlying spiritual beliefs, she and the family learned that they shared a common desire and commitment to keep the infant as comfortable as possible while maximizing his capacities and nurturing the bonds among the family members. Through long conversations about children and the role of family, they found that their mutual love for each of their own children surpassed any differences they had. Hollenbeck was impressed by the importance of finding common ground, and became even more determined to listen deliberately, and to learn about cultural care practices. She was able to arrange for all of the infant's discharge instructions to be interpreted into Arabic.
Grateful for a supportive employer, Hollenbeck is nonetheless concerned about our increasingly "fix-it" society that focuses on the newest and best procedural testing and medications, as well as an abundance of confusing Internet information—all of which can present a dilemma for families confronted with a decision about "what is best" for the patient. Nurses often find themselves in the midst of family situations when families are learning to navigate the health care system during crises. It can be very confusing, especially if working with multiple specialties and healthcare personnel. She hopes that nurses can continue to stress the importance of both using internal wisdom and returning to some basics—meeting people where they are, and including the use of therapeutic listening, effective nursing interventions, and energy healing to support the medical interventions. While some hospitals have begun to use CAM (complimentary alternative medicine), she says there is a long way to go. Many nurses struggle to find their "voice" as part of the work team, and are burned out from the heavy demands of multiple care assignments and alarm fatigue. She has found that nurses want education on self-care strategies, working with diverse population groups, and dealing with lateral violence and bullying in the workplace. "It is time to reclaim the professionalism of nursing," she says.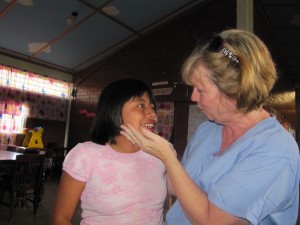 Currently working on a doctorate in Transcultural Nursing Leadership at Augsburg, Hollenbeck credits her professors for having gently guided her in learning how to become a nurse healer. At Augsburg she found a worldview that has helped her navigate life, a concern for community service, and a strong appreciation for experiential education, thanks to local and international immersion experiences in places like Pine Ridge reservation, Mexico, and Guatemala. These immersion experiences have been very enriching times, and she would highly recommend them to Augsburg students. She continues to enjoy outreach mission trips with her sisters and granddaughter, often traveling to Guatemala, where they provide supportive nursing services for children.
Working hard at "not taking her work home with her," Hollenbeck is careful to eat healthy foods, exercise, get enough rest, follow self-care rituals, and pursue her passions outside of work. With a deep spiritual faith and strong faith community, she is lovingly bolstered by her husband of 37 years (Michael Hollenbeck '75), grown children, grandchildren, and nurse-sisters and nurse-daughter-in-law. The Hollenbecks live on a hobby farm in Nowthen, Minn.; they enjoy traveling together and sharing weekly family dinners.
— Cheryl Crockett