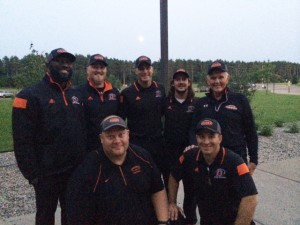 Derrin Lamker '97 remembers that he wanted to be a coach from his first year in college. As head coach at Osseo High School for the last 10 years, he says he had good training coming from a great team like Augsburg.
At Augsburg, he played football, basketball, and baseball. During his football career, he was the MIAC Most Valuable Player and led the Auggies to an MIAC title in 1997, the same year he received Kodak All-American Honors.
At Osseo, Lamker has surrounded himself with a coaching staff that includes several stellar Auggies and teachers. They mesh well and show up every day for the same reason—to develop contributing members of society. Their hope is that no matter where the players go, or where football takes them after high school, they will be successful. The Orioles are now ranked second in the metro area, and have started the season with a 2-0 record. Lamker says what is remarkable about the team is the people.
Six Auggies join Lamker in coaching the teams. They include his former college football coach and mentor, Jack Osberg '62. Osberg says it is a great joy to coach with Lamker. "I'm doing what I love to do," says Osberg, who was head football coach at Augsburg from 1991-2004, and then stayed on to work with head coach Frank Haege. He didn't stay away from football very long before he continued to get his "fall fix" in coaching once again at Osseo High School.
"It's real people at Augsburg. That's what you get," says Lamker. The Auggies joining him on the coaching staff include Andy Johnson '04, Royce Winford '09, Mark Joseph '01, David Tilton '12, and Jordan Berg '09. For the past five seasons, they were joined by Tony Nelson '84 and Doug Bailey '90, who stepped down from coaching this year. Together, they have built a program that puts its priorities in order, much like they saw at Augsburg, both on and off the field.
Competition and Compassion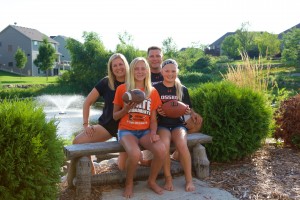 How do they prepare athletes for the competitiveness of athletics in a tough league? Osberg talks about feeding their competitive nature in a way that doesn't overwhelm and distract. "You've got to treat them right," Lamker says. "Treat the players with honesty and have fun." After all, he says, "football is an optional game. It's a choice."
Lamker enjoys the organizational part of the game, but knows that the challenge rests in getting 190 players and 20 coaches on the same page with the same philosophy. Osberg says Lamker has a work ethic that is second to none. "He communicates extremely well with his peers, players, and community. He has an edginess about him and a deep compassion that gives him the ability to handle a multitude of situations that can come up in coaching. He loves the game and his players."
His drive has paid off. Lamker was named the Northwest Suburban Conference Coach of the Year in 2007, 2013, and 2014. During his tenure, Osseo has had the highest winning percentage in the league.
Family Values
"Derrin has a knack for getting the chemistry just right," Osberg says. "He is amazing at pulling all the pieces together. He brings together people who are compatible, and who genuinely care about the young men and their families"—values he saw in action at Augsburg and shared with student-athletes. "I am so proud of these guys," says Osberg. "I love to stand back at times and watch them work like a proud father. They apply their unique skills and personality and 'bring an Auggie touch' to what they do."
The secret to good coaching, Osberg says, is in finding natural teachers. "In all the years that I've been coaching, I've found that you don't have to be a star athlete to be a good coach. If you're a good teacher and you like young people, you can be a good coach. There are many roles of teaching in our lives.  We teach as parents, colleagues, and coaches. You have to be able to motivate, understand individual differences, and teach skills. If you can challenge individuals to reach their potential and then stretch them a little more, you have succeeded as a coach.
"Derrin has always understood the people component of success in a career. I think that is one of the great values Augsburg College has taught," Osberg says. "He has a knack of handling each member of the team in the way that's best for them," Osberg says. "It's fun to watch him coach."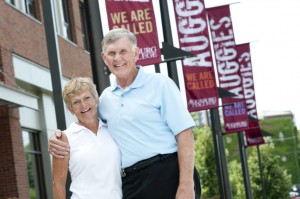 Part of the reason Osberg felt so at home in Division III sports was because of the balance between athletic, educational, and personal values. He says, "There's more to life than the things right in front of you. If you can understand the values of coaching, athletics, and people around you it's one of the great aspects of coaching football."
Coaching for Osberg has always been a family affair. Throughout his career, his wife, Nina, has long been his right-hand in supporting the students off the field, especially if they were struggling at home or in school. "I couldn't do what I do without her beside me," he says.
Leadership and Belonging
One of Lamker's favorite memories from his time at Augsburg is winning the conference championship in 1997. He credits his role models, Jack Osberg, Frank Haege, and Drew Privette '89 with teaching him discipline, organization, how to treat people right, and how to have to have fun in the sport.
"Derrin had to work hard for everything he accomplished," Osberg says. He remembers Lamker as outstanding in his junior and senior years at Augsburg. He was years ahead of his peers, and knew what he wanted to do with his life. "He knew his pathway and he worked so hard to get there and never let up," Osberg says.
Lamker was a natural leader on the field. "As a quarterback he was like a coach on the field." After graduation he continued his development as an assistant football coach at Augsburg.
Augsburg continues to draw Auggies together as students, coaches, and alumni. Osberg says he loved every minute of his time as a student and coach. "The people drew me to Augsburg. I sensed it 1958. It was so wonderful being a piece of that as a coach," he says.
Now he is thankful for the positive energy shared with the Osseo team. "These coaches give me a sense of belonging to a group." Like Lamker, the joy he has in coaching is still meeting and working with young men and watching them grow and mature.
Their love for coaching is more than x's & o's. And it's a love that's renewed each fall as a new team assembles on the field.