Job Description
Institutional Advancement are hiring a Temporary Annual Giving A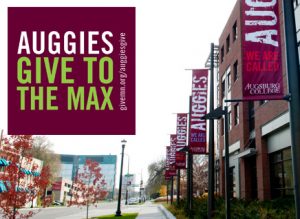 ssistant to help out with Give to the Max Day. This position will be working alongside the Senior Director of Advancement, Advancement Communications Specialist and the Give to the Max Day fundraising project managers to make this Give to the Max Day our best one yet.
The position will involve:
Orchestrating one-on-one interviews with Augsburg faculty, staff and student leaders.
Serving as lead project coordinator for up to 20 projects.
Completing necessary marketing collateral for projects including website registration and design.
Editing and sending email and mail copy.
Setting fundraising goals for individual projects.
Manipulating spreadsheets with donor data.
Assisting in the planning and execution of donor recognition events in coordination with various project managers.
Think that you would make a great Annual Giving Assistant? You can apply here.
Required Qualifications
Minimum Associate's degree required; Bachelor's degree preferred
1-2 years of administrative assistant or coordinator experience
Prior project management experience
Experience with website management/maintenance
Demonstrated competence in using multiple social media platforms to engage audiences, specifically Facebook, Twitter and LinkedIn
Previous fundraising experience strongly preferred.