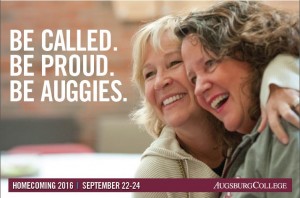 Homecoming planning is already underway for Sept. 22-24, 2016. The Alumni Association looks forward to hosting reunions for the classes of 1966, 1976, 1991, and 2006. If you're a member of these reunion classes, we need your help!
We want this chance to reconnect and revisit the campus to be awesome. If you would be willing to serve as a reunion leader and help coordinate plans and invite classmates, please join your reunion committee! Members of all reunion classes are gathering on campus to discuss ways we can make our reunion meaningful for all of us. We would appreciate your input and invite you to join us.
Please be assured that the time commitment for you is minimal. The Alumni Relations department takes care of a majority of the details, but we need YOUR help deciding how to celebrate this important milestone. We also need your help finding former classmates and encouraging fellow classmates to attend.
Our first meeting is Thursday, May 19, at 7 p.m. in Oren Gateway Center, room 100. Please let the Augsburg Alumni office know if you would be interested in serving on the host committee. RSVP to alumni@augsburg.edu or 612-330-1173. If you would like to be a part of your reunion host committee, but cannot attend the first meeting, please let us know.
In addition, look forward to celebrating the awesome Auggies being honored at Homecoming this year:
•  Karim El-Hibri and Kyle Loven '06 will receive the First Decade Award.
•  Norm & Evangeline Hagfors and Dr. Robert (Bob) Stacke '71 will receive the The Spirit of Augsburg Award.
•  Ron Nelson '68,  Lee Roper-Batker '88, and  Dr. Ray Yip '72 will receive the Distinguished Alumni Award.