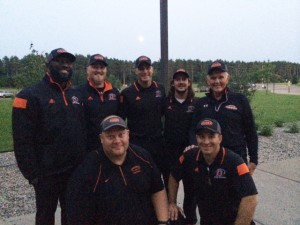 Derrin Lamker '97 remembers that he wanted to be a coach from his first year in college. As head coach at Osseo High School for the last 10 years, he says he had good training coming from a great team like Augsburg.
At Augsburg, he played football, basketball, and baseball. During his football career, he was the MIAC Most Valuable Player and led the Auggies to an MIAC title in 1997, the same year he received Kodak All-American Honors.
At Osseo, Lamker has surrounded himself with a coaching staff that includes several stellar Auggies and teachers. They mesh well and show up every day for the same reason—to develop contributing members of society. Their hope is that no matter where the players go, or where football takes them after high school, they will be successful. The Orioles are now ranked second in the metro area, and have started the season with a 2-0 record. Lamker says what is remarkable about the team is the people.
Six Auggies join Lamker in coaching the teams. They include his former college football coach and mentor, Jack Osberg '62. Osberg says it is a great joy to coach with Lamker. "I'm doing what I love to do," says Osberg, who was head football coach at Augsburg from 1991-2004, and then stayed on to work with head coach Frank Haege. He didn't stay away from football very long before he continued to get his "fall fix" in coaching once again at Osseo High School.
"It's real people at Augsburg. That's what you get," says Lamker. The Auggies joining him on the coaching staff include Andy Johnson '04, Royce Winford '09, Mark Joseph '01, David Tilton '12, and Jordan Berg '09. For the past five seasons, they were joined by Tony Nelson '84 and Doug Bailey '90, who stepped down from coaching this year. Together, they have built a program that puts its priorities in order, much like they saw at Augsburg, both on and off the field. Continue reading "Coaching with Conviction: From Auggie Pride Comes a Passion for Teaching" →