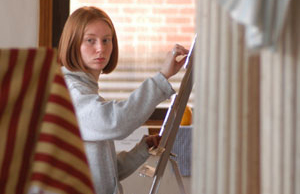 Art is essential. It teaches us to see, claim beauty, make sense of pain, explore the world, and express ourselves.
At Augsburg University, inspiration and creativity grow from the diversity of ideas of a small campus in the heart of a major metropolitan area. A solid foundation of drawing, design, and history is balanced with the development of technical skills, critical thinking, and creative exploration in a range of media. On-campus galleries showcase the work of students and professional artists. Small class sizes and an innovative faculty support creative curriculum in disciplines like drawing, painting, printmaking, ceramics, sculpture, photography, hand papermaking, book arts, architecture, and digital media.
Galleries and museums surround us; art club, studio visits, and guest artists provide art in real time; service learning, internships, and study abroad are integral to our program. We reach nearly 1,000 students a year from all disciplines, and we graduate 25-30 majors annually with BA degrees in art history, studio art, art education; we also offer an architecture minor and certificates in studio art and digital design.
For nearly half a century, students have been earning degrees in art and art history at Augsburg University. We're excited to be here in the center of the city. We think you will be, too.