Study Abroad Opportunities
Art and Spiritual Practice in Italy
May 2011
Professors Tara Sweeney and Brad Holt have once again combined their expertise to lead a popular short-term study abroad program in Italy, May 2011. This rich immersion in original art making, diverse spiritual practices, and Italian history and culture is a once-in-a-lifetime experience. Content and itinerary are very similar to the inaugural program from May 2009 when fifteen Augsburg students traveled to Siena, Florence, Asissi, and Rome, to study plein air sketching and the spiritual practices of Francis and Clare. Drawing and spiritual practice are central to every days itinerary. Participants keep a daily journal and sketchbook. They walk a pilgrimage through a pristine forest reserve in northern Tuscany, visit sacred sites and churches in Siena, Assisi, and Rome, view priceless Italian art in the original context, and sketch at every site with ink and watercolor.
The Sights and Sounds of Paris
January 2010
It is said that Paris is never more French than in the winter. January 2010, the 200th anniversary of Frederic Chopin was no exception. Professors Tara Sweeney and Merilee Klemp knew that when they worked together to develop an interdisciplinary travel course that would help students understand and appreciate the intersections between art and music. Fifteen students joined them over the holiday break for two weeks filled with excursions to churches, museums, concert halls, opera houses, artisan studios, even a cruise on the Seine. Students kept a daily journal and a sketchbook. Art majors and non-art majors alike created sketches at every site the group visited. The combination of writing and sketching helped students to see and listen more deeply and to begin to appreciate art and music as interrelated. In addition to scheduled events, students had four opportunities to select programming choices using Pariscope, a popular weekly events publication. With a small budget, students chose events or venues to explore, mixed with locals, spoke a little French, developed travel smarts, and made informed and independent programming choices. Ice sculpture at the Champs-Élysées; the Museum of Natural History, Gobelins Tapestries, a Chopin piano recital at the Church of St. Julien le Pauvre, the oldest church in Paris are just a few examples. Students said the program changed them in ways they hadn't anticipated. "Even if you think you won't come back a different person, you do," said Melissa Herrick, an art major. "An experience like this broadens your view and gives you a deeper understanding of the world."
Art and Spiritual Practice in Italy
May 2009
For three weeks in May 2009 Augsburg professors Tara Sweeney and Brad Holt, led a paired study abroad experience in Italy. Fifteen Augsburg students traveled with them to Siena, Florence, Assisi, and Rome to learn plein air sketching and study the spiritual practices of Francis and Clare. The background of the participants was diverse. Prior to the Italy program, some had never left Minnesota, while others had already traveled abroad extensively. All benefited from the rich history, diverse spiritual practices, and Italian culture in which they became immersed. Drawing was central to every day. Students kept a daily journal and sketchbook. They were introduced to a diversity of spiritual practices, including making a pilgrimage through a pristine forest reserve in the mountains of northern Tuscany.
Making Art and History in France
May 2006
For three weeks in May 2006 Professor Tara Sweeney taught 15 students to draw en plein air as they studied the religious practices of medieval France. Before they returned to Minnesota participants walked four days on the historic Chemin de St. Jacques pilgrimage trail that begins in southern France and crosses the Pyrenees to become the Road to Santiago. A typical class began wherever participants could gather to hear a passage from John Ruskin's Elements of Drawing in Three Letters to Beginners for example, below the twelfth century bridge in Espalion, one of les Plus Beaux Villages de France followed by a drawing lesson. They visited and drew on site at monasteries, cathedrals, walled towns, museums, and a papal palace, slept in small family-run hotels, dined on traditional local fare at long communal tables. Students kept a daily sketchbook and journal that documented the experience. They drew together wherever the inspiration and pauses of travel made it possible all day, any day: inside the walled city of Carcassonne; after a dip in the Mediterranean Sea at Collioure; in front of the papal palace at Avignon. The last full week of the course was spent in Paris. In studying to understand the past, and in sketching what remains of it, students learned to listen, to see deeply, and to be fully present.
Watercolor: The Art of the French Table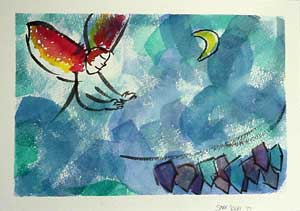 January 2002
While France launched the euro in January 2002, Professor Tara Sweeney and eight students painted plein air watercolors and experienced French culture and the art of masters from the mediterannean Cote d'Azur to Paris. They began in Nice, witnessing the living history of Renoir, Chagall, Matisse, Miró, and Picasso. Renoir's 1000-year-old olive trees with view of the sea shelter the serene, Les Colettes, where he painted shimmering nudes for the last four decades of his life. Chagall's immense canvases tell love stories. Matisse's red, striped chair, corner table, green vase, open window grace his Cimiez studio. Deeper into Provence, Cezanne's studio in Aix-en-Provence holds the simple props and unforgettable views that inspired his work. Dramatically modern Léger, Mîro and Picasso owe a debt of inspiraton to the region's pottery and glass artisans. Near Arles, the church that inspired Van Gogh's Starry Night still stands opposite St. Remy with its serene gardens of iris and sunflowers, site of his most prolific body of work. The group traveled from Avignon to Paris by train, and soaked up museums, shopping, and French cuisine in the City of Light before returning to Minnesota with their portfolios and memories.
The Artist's Book: Provence to Paris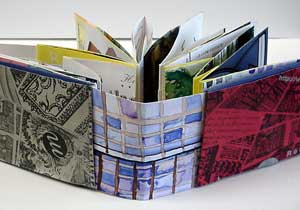 January 2001
For three weeks in January 2001, Augsburg professors Tara Sweeney and Pary Pezechkian led a paired program in watercolor and book making, and beginning French for twenty five students. They followed the paths of six masters from the last century: Matisse, Monet, Renoir, Van Gogh, Cezanne, and Picasso, and visited studios, sites, and museum collections from Provence to Paris. A typical day began with a French vocabulary and culture lesson, and practice with watercolor technique. Students then spent time at a site where a master artist worked, saw the art it inspired, and painted watercolors on location. The final extended weekend in Paris in between patisseries, shops, museums, and clubs students bound journal entries, assemblage, and watercolors together into a unique handmade travel memoir.