Karen Workshop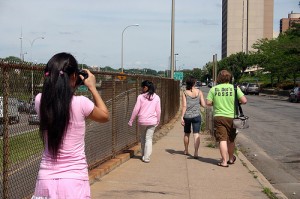 With a grant from the Center for Teaching and Learning in 2009 Susan Boecher offered a photography workshop that partnered Augsburg University students with six Karen teens from Arlington High School in St. Paul. The five-week course introduced students to the technical skills required to properly expose, develop, and print black and white film while providing an overview of the creative aspects of photography. To gain a broader understanding of one another, class assignments encouraged students to spend time together both in and outside of class. By creating a shared learning environment that requires students to work and spend class time together, Augsburg students developed first hand accounts of a group of recent arrivals, while promoting an understanding of the Augsburg community to the Karen students. An exhibition of completed work and presentation was made during the Nobel Peace Prize Forum at Augsburg in 2010.
Fine Arts Keystone Sheds Light on Deaths Along Mexican Border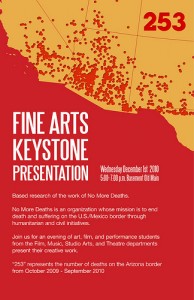 The Fine Arts Keystone class at Augsburg develop business skill sets that include resumes, bios, artist statements, and grants and suggest vocation as a means to use their artwork to engage the community. A collaborative art piece at the end of the semester examines a relevant topic and showcases the work of each student's respective discipline is presented each fall to the University community.
This fall, the 2011 graduating Fine Arts Keystone researched No More Deaths, a nonprofit organization that provides humanitarian assistance to people who cross the US/Mexico border. The students involved in the class researched the organization and found inspiration for an array of original work that was presented on December 1st, 2010 in the Old Main Gallery. The evening featured presentations of paintings, drawings, sculptures, film, and music.