Foci Glass / Minnesota Center for Glass Arts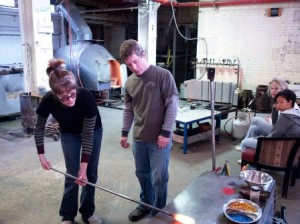 Students from a freshman seminar "Augsem" course participate in a lecture, demonstration, and hands-on glass blowing fieldtrip to Foci Glass / Minnesota Center for Glass Arts. Pictured are owner and operator Michael Boyd giving a demonstration and Andy assisting Britta with her glass blowing efforts.
Screenprinting Workshop at Minnesota Center for Book Arts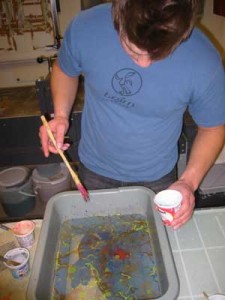 The Augsburg Art Club recently sponsored a trip to the Minnesota Center for Book Arts in which students brought designs to screenprint on posters and shirts. Students were introduced to the photo emulsion technique of transferring their designs to a prepared screen. They were then able to pick out ink colors for their design and use the MCBA's equipment to transfer their images on posters and shirts.
Paper and Book Workshops
The art department sponsored two special Saturday workshops in March 2005 on hand papermaking and book binding.
Professor Tara Christopherson helped participants in the papermaking workshop get their feet wet (really) in an information-packed session on making handmade paper without specialized equipment. They began with a hands-on portfolio of samples for inspiration and explored fiber sources and preparation; basic equipment needs; vat setup; sheet forming; shaped papers; multiple color couching; pressing; drying; cleanup; and resources.
Most participants returned for the second workshop the following Saturday and used their handmade papers as well as provided ones to bind a hard cover journal by hand. Pattern, instructions, and basic supplies for two journals were provided.
Clay Stomp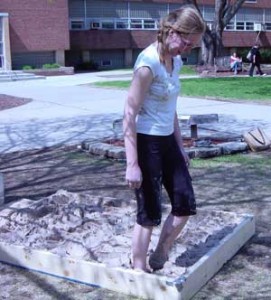 Augsburg Art Club in collaboration with the Coalition for Student Activism sponsored an event called "clay stomp" this past Spring 2005 (at right).  The event's focus was to actively engage the Augsburg community to re-connect with the earth while processing recycled ceramic studio clay for future use.  Foot wedging is an age old process utilized by many indigenous cultures to homogenize the clay for production.