Betsy Popelka
Major: Studio Art
Internship: Minnesota Center for Book Arts (MCBA), Minneapolis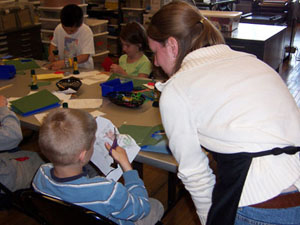 Betsy Popelka ('07) completed her requirements for spring semester off campus as an intern with the HECUA City Arts program. The non-profit, Higher Education Consortium for Urban Affairs (HECUA), helps metro area colleges provide off-campus domestic and foreign study programs focused on community partnerships and social change.
Betsy spent three days a week, culminating in 200 internship hours, at the Minnesota Center for Book Arts (MCBA) in Minneapolis, just 20 minutes' walk from Augsburg's campus. MCBA offers traditional and contemporary classes and studio space for the book arts. "My official role as youth residencies intern gave me the opportunity to experience different school settings and a variety of ages, backgrounds, and abilities in the book arts." Some school groups visit MCBA on fieldtrips, but the Youth Residencies program takes book arts into the classrooms of local schools. Betsy worked closely with the Youth Residencies Coordinator Lori Brink prepare materials for school visits, make mock-ups of books for demonstrations, and assist in teaching the curriculum.
Now she's designing a book for classroom distribution promoting MCBA programs.  And next year ? She hopes to spend spring semester studying studio art and art history in Europe.
Melissa Herrick
Major: Mass Communications/Studio Art minor
Internship: Centro
Melissa Herrick ('12) is working with Susan Boecher, Augsburg University professor, on an internship with Centro. Centro is a local organization that serves the Chicano and Latino communities. Last summer Melissa was part of a photography workshop offered through OverExposure, a nonprofit organization Susan runs when not teaching at Augsburg University. Currently she is continuing the project by working with Centro students to show them how to produce their photographs with digital programs on computers and scanners.
Meghan Novak
Major: Studio Art
Internship: Walker Art Center
Meghan Novak ('13) will be starting an internship in the spring at the Walker Art Center in Minneapolis. She says, "One very huge incentive is that it will be on the job training, and if I stick with it I'll have a professional portfolio when I graduate. I'll also be getting paid. It could not get better because this is what I'm currently interested in." She will be working widely with Photoshop and Illustrator, and will be continuing her graphic design courses at Augsburg.
Lindsey Dodge
Internship: Cave Paper
Lindsey Dodge interned at Cave Paper in 2009. Cave Paper is located in Minneapolis's Warehouse District, where they make high-quality, unique sheets of paper. She gained experience with paper arts, and making unique paper by hand. For example, she learned how to dye paper and sew and bind books. She reflected, "I think this experience was valuable for me on many levels. On one hand I learned crucial vocabulary for paper and book making, I was able to experiment with my technique, and I had two amazing teachers who were able to give me feedback during my process. I consider this experience a lesson in the art of paper and the art of teaching."