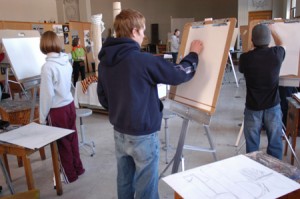 The drawing and painting studio shares a rich history with the University. Located in what was once the original chapel on campus, the studio's 25-foot ceilings and soaring windows bring in beautiful natural light and create an idyllic space to learn beginning drawing, life drawing, watercolor, acrylic and oil painting, and architectural drawing.
ART 105 Introduction to Architectural Drawing 
This course develops basic skills involved in perceiving and representing the material environment through the study of sketching and drawing skills.
ART 106 Chinese Calligraphy and Painting I
Introduction and practice of Chinese calligraphic painting and writing.
ART 107 Drawing
Students use traditional media to develop technical skills and explore descriptive and experimental ideas for perceptual and conceptual drawing. Emphasis is placed on foundational drawing concepts.
ART 118 Painting I
Introduction to painting media and technique in acrylic or oil.
ART 122 Plein Air Sketching I
This foundational course in plein air sketching introduces observational skills and sketching on-site in the midst of daily life as a meditative way of seeing deeply and responding to place. Students explore media, technique, and subject matter, visit sites and museums to understand context and meaning, and respond creatively.
ART 210 Drawing for Design in Architecture
Introduction to and exploration of the conceptual function of drawing in architecture. Exploration of the history of drawing in architecture, critical review of drawing conventions and systems, and examination of drawing processes as modes of perception and cognition.
ART 247 Life Drawing
An introduction to the methods and techniques of drawing the human form through the use of live models. Emphasis will be placed on perceptual drawing skills and accurately rendering the human form in a spatial environment.
ART 257 Watercolor Painting I
Introduction to transparent watercolor emphasizes perceptual observation to explore color theory, media, and technique. Class sessions often include painting outside on location.
ART 306 Chinese Calligraphy and Painting II
Advanced practice of Chinese calligraphic painting and writing. (Prereq.: ART 106)
ART 322 Plein Air Sketching II
This advanced course in plein air sketching is a continuation of ART 122, which introduces observational skills and sketching on-site in the midst of daily life as a meditative way of seeing deeply and responding to place. As advanced students develop mastery of technique and expression of personal subject matter and style, it is expected that there will be significant, experiential engagement with artistic, cultural, and historical*h resources, as well mentoring of beginners. (Prereq.: ART 122 or permission of instructor)
ART 355 Painting II
Advanced study in acrylic or oil paint media, emphasizing individual expression. (Prereq.: ART 118)
ART 357 Watercolor Painting II
Advanced exploration in transparent watercolor; emphasizes individual expression. (Prereq.: ART 257)