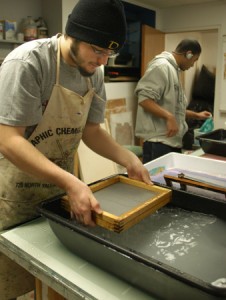 In our Hand Papermaking and Book Arts class we focus on a contemporary interpretation of books and paper. Our emphasis is on contained narrative — the fourth dimension in art — whether this is an artist's book, a book-related installation, a sequence of formed paper, or dimensional paper objects.
The papermaking studio features a "whiz mixer" to beat pulp, a hydraulic press to remove excess water from newly formed sheets, and a dryer that keeps paper flat. In addition to these large papermaking tools, there is a generous supply of vats, moulds and deckels, felts, large plastic buckets, etc. for in-class student use.
The book arts section is designed in a way to keep tools and construction materials so simple that, after graduation, students will be able to continue this art practice on a desk or kitchen table. Having said this, the board shear in the design studio is a frequently used piece of equipment. It helps us cut large pieces of paper and book board.
ART 280 Hand Papermaking and Book Arts I
Introduction to hand papermaking, box building, and contemporary bookmaking; emphasizes the interplay of text and image in the handmade book.
ART 380 Hand Papermaking and Book Arts II
Advanced exploration in hand papermaking and book arts, emphasizing individual research and expression. (Prereq: ART 280)