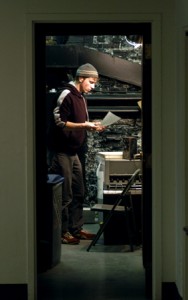 As photography moves from silver to electromagnetic recording, photography courses at Augsburg encourage students to view the world in ten zones of grey and use a 35mm camera to record light on silver gelatin film. For our students there is something magical about developing film, exposing a piece of blank white paper to a negative, placing the paper in clear chemical solution and watch a ghostly image become permanent. This proven method which renders facts on film, enables students to view, capture, and create a realistic representation of the issues and concepts from which they are inspired.
The majority of assignments are completed in our darkroom facility which includes 8 enlargers that accommodate 35mm and medium format.
ART 132 Photography I
The camera used as a tool for visual creativity, expression, and communication with attention to black-and-white photographic processes. Students need access to a 35mm, single lens reflex camera. Materials will cost approximately $200-225.
ART 332 Photography II
Advanced study in black and white film photography. Projects will encourage the refinement of technical and formal skills and the development of a personal approach to subject matter and content. Students will be introduced to archival print methods, expanded film exposure and development styles, portfolio presentation, develop the vocabulary to write an artist's statement, and research contemporary photographers. (Prereq.: ART 132)