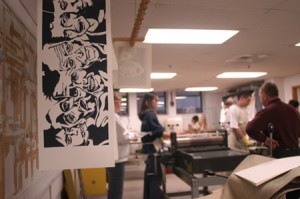 The printmaking facility at Augsburg is designed to accommodate a variety of fine art printmaking processes. All forms of intaglio, relief, and mono-printing methods can be practiced. Included in the room are two etching presses, an etching area set up for use with ferric chloride, an aquatint dust box, a critiquing wall, cleaning and drying areas, generous glass-topped inking surfaces, tool and supply storage, and an eye wash. The room is equipped with a high capacity venting system that is activated when solvent-based materials are being used. The print room is adjacent to an open lab that includes a paper and card cutter, a light table, and ample desktop surface areas for planning and group discussion.
ART 223 Print Making I
An introduction to traditional and experimental media and methods of printing. Intaglio, relief, and mono/unique methods are explored.
ART 368 Print Making II
Continued exploration of intaglio, relief, and mono/unique methods. Use of larger formats, multiple plates, and an emphasis on color are encouraged. (Prereq.: ART 223)