On Wednesday, September 25, four biology students presented research at two different events.
Michelle Grafelman presented her poster "The Role of the Hedgehog Gene in Daphnia magna Eye Development" at the University of Minnesota's Developmental Biology Symposium.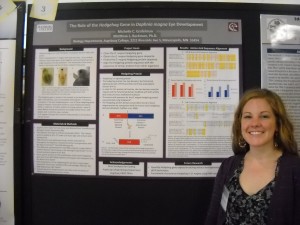 At the North Star STEM Kickoff, Raesean Sneed, along with Biology professor Matthew Beckman were presenters on a undergraduate research panel. In addition, Raesean, Rico Barrozo and Promise Okeke presented posters describing their summer research experiences.
Michelle, Raesean and Rico all worked with Dr. Beckman this past summer. Promise was a summer research intern at John's Hopkins University.