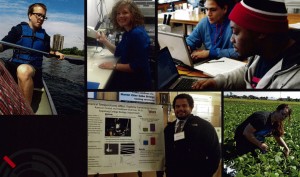 Save the date – Thursday, November 13 is Give to the Max Day, and this year, the Augsburg Biology Department is jumping on board with a project of our own. Your gift will help us reach our $10,000 goal that will fund student researchers and projects.
Over the past 5 years biology faculty have mentored over 50 undergraduate students in faculty directed research programs.  The students are vital to our research programs and the research experience is often transformative for them:
Being able to do research at Augsburg has provided me with an incredible experience to grow academically, professionally, and personally. Research has allowed me to understand more fully the topics I learn in my classes by applying those concepts in a hands-on way. Doing research also provided me with valuable skills to use in my future of continuing education and research. It afforded me an amazing opportunity to research biomedical ethics at the Mayo Clinic. I have been able to develop my presentation skills, as well, as I have presented my research several times and will be presenting it again at the Society for Neuroscience conference in Washington, D.C. in November. Doing research has helped me to realize my passion for genetics, my desire to become a physician, and my aspirations to study further the utilization of genetics in medical practice.
–        Michelle Grafelman '15, Sundquist Scholar, and Vann Fellow at The Mayo Clinic
Augsburg has demonstrated its commitment to undergraduate research by funding 40 research students each year, 10 of whom work with biology faculty.  Currently, more qualified students apply to do research than can be funded by college, and the Biology Department's goal is to raise an additional $10,000 on Give to the Max Day on November 13 to allow more students to conduct undergraduate research in Biology. 100% of the faculty in the department have pledged to support this effort. Please join us and make your pledge today in advance of Give to the Max Day.