Bonner Leaders Program teaches student about business and more
Finance major Luke Iverson '15 was one of three Augsburg College students who interned at St. Stephen's Human Services through the Bonner Leaders Program during the 2012 fall semester. Bonner leaders select, apply to, and interview for internship positions at community agencies whose services are tied to the students' interests, academic degree programs, or preferred learning outcomes. Iverson's story discusses how hands-on experience at his placement helped him become a better business student and prepare for his career.
Weekend and Evening College 30th anniversary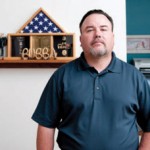 James "Bubba" Chambers '07 [left] is just one of the incredible Weekend and Evening College students you'll meet in the Fall 2012 issue of the Augsburg Now magazine. A U.S. Navy veteran, Bubba completed his degree in accounting while working full-time and raising a family. His story is part of the feature, "Weekend and Evening College celebrates 30th anniversary."
Studying business in Mexico
Erica Lippitt '12 studied twice in Cuernavaca, Mexico through the Center for Global Education. CGE offers short-term and semester programs for Business majors and provides opportunities to complete internships abroad. Read a post by Erica on the CGE Mexico blog on Inside Augsburg. Read about Erica's experience in the Summer 2011 issue of the Augsburg Now magazine. Learn more about Mexico: Crossing Borders through CGE.
Teaching students about money
Tom Rixen '12 and Kris Ozga '11 led the Money Matters program in 2010, a series of events designed to teach students about financial issues. Both marketing majors, they were recruited to join a personal finance pilot project aimed at college students directed by Thrivent Financial for Lutherans. Read the story on Inside Augsburg from Oct. 3, 2010.
Intern John at KDWB

While he was a student at Augsburg, John Cerrito '11 had the opportunity to do an internship with the morning show at local radio station KDWB. Read the Oct. 9, 2008 Inside Augsburg article about "Intern John."
An internship in England
In summer 2009, Grand Rostad '10 did an internship with Ernst & Young in London, England. It was his first time traveling outside North America! Read the June 9, 2009 Inside Augsburg article about Grant's experience across the pond.