West Bank Farmers Markets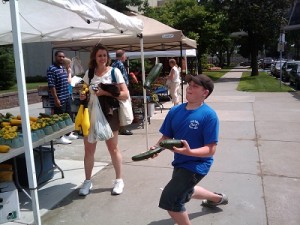 Tuesdays July-October
Augsburg Foss Center 11-2 pm
Brian Coyle Community Center 3-5 pm
While the Cedar-Riverside neighborhood has plenty of places to get a hot meal and drink, it's nearly impossible to find a good piece of vegetable or fruit. In the city's most densely populated blocks, the local groceries are small and have a very small selection of fresh produce. In order to fill in where the free market has failed, Campus Kitchen operates two neighborhood farmers markets during the growing season. The markets are small, but offer a wide selection.
Want to check out other local farmers markets in Minneapolis? Honestly, most offer much more of local flavors than ours ever will. Check out the information below provided from the City of Minneapolis's Sustainability website.
Minneapolis Farmers Markets
Click on the pins to see market info for 2012.
Why buy local?
Local produce is nutritious and affordable. Many Minneapolis farmers markets also sell organic produce, as well as flowers and artisan food and gifts. Purchasing food from local farmers supports the local economy and helps farmers to retain their livelihood. Farmers markets provide the opportunity to connect with the local families who planted and harvested the food. Farmers markets dramatically reduce the journey that food takes to your table and avoid costly, wasteful packaging and emissions. Most farmers markets are accessible by foot or bicycle, providing another way to reduce climate change.
Minneapolis Farmers Markets
Scroll through the table below to see information on farmers markets in the city of Minneapolis, including service type, location, days/hours of operation, and a website, if available.
Recipes
With so many fresh food items at the market, sometimes it can be overwhelming to think about all the different meals that you can create with items from the farmers market. For some quick and easy recipes, visit this page that provides with you some great recipes.
Learn More
For a directory of Minnesota farms, markets and garden centers visit the Minnesota Grown Food and Farm directory.
Interested in local food? Homegrown Minneapolis is an initiative to create recommendations to promote locally grown foods in the City of Minneapolis to positively impact the health, food security, economy and environment.