West Bank Farmers Markets
T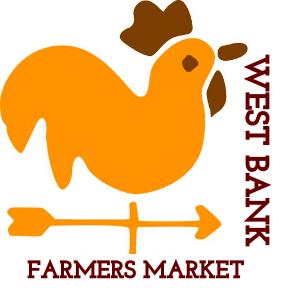 uesdays at the Brian Coyle Community Center from 3pm – 6pm, July-October
Thursdays at Augsburg Campus from 11am -2 pm, July-October
*Map of the Brian Coyle Market Location
*Map of the Augsburg Market Location
Minneapolis Mini Markets
While Minneapolis boasts several impressive farmers markets in many areas, several neighborhoods in the city are left with little to no options for purchasing fresh, healthy food from local farmers. The Minneapolis Mini Farmers Market Project was started by the Institute for Agriculture and Trade Policy (IATP) in 2006 to facilitate community organizations in bringing fresh food to their neighborhoods. Mini markets allow five or fewer vendors and sell locally grown food, fresh produce, and home processed foods, providing opportunities for small farmers and communities to come together around efforts to increase access to healthy food.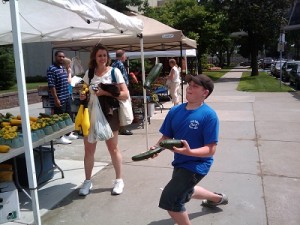 The West Bank Farmers Market serves the Cedar-Riverside Neighborhood, including community members who live and who work in this vibrant neighborhood. Our markets run in the peak of the season, from mid-July to the end of September, and we accept SNAP/EBT, WIC and Farmers Market Nutrition Program (FMNP) vouchers.
EBT/SNAP at the Farmers Market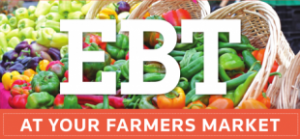 In 2008, Farmers Markets in Minneapolis began accepting electronic benefit transfer (EBT) cards at farmers markets for those who receive food (SNAP or Supplemental Nutritional Assistance Program, formerly known as Food Stamps) or cash assistance. This allows low-income families to benefit from opportunities for healthier eating by purchasing fresh produce directly from local farmers. Market Bucks, an initiative sponsored by Blue Cross Blue Shield of Minnesota offers an additional incentive of up to $5 to spend at the market when you use your SNAP benefits at market. Stop by the market information booth to learn more.
For more information about SNAP, to find out if you are eligible, and learn how to apply, visit Hungersolutions.org/SNAP or call the Minnesota Food Helpline at 1-888-711-1151.
Why buy local?
Local produce is nutritious and affordable. Many Minneapolis farmers markets also sell organic produce, as well as flowers and artisan food and gifts. Purchasing food from local farmers supports the local economy and helps farmers to retain their livelihood. Farmers markets provide the opportunity to connect with the local families who planted and harvested the food. Farmers markets dramatically reduce the journey that food takes to your table and avoid costly, wasteful packaging and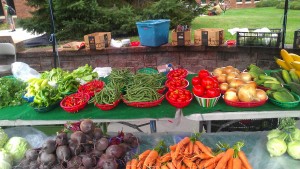 emissions. Most farmers markets are accessible by foot or bicycle, providing another way to reduce climate change.
Get Involved with the Market
We are currently recruiting vendors for the 2015 season! There is no application fee and no fee to rent a stall. To apply to be a vendor, simply complete the 2015 West Bank Farmers Market Vendor Application as well as the Farmers Market Exemption Form and the ST19 Tax Form.
If you have any questions about the vendor application, feel free to contact the market at campuskitchen@augsburg.edu or at 612-330-1624.
If you are an organization or community group and you are interested in attending the market to share the mission of your organization with market patrons, complete our Community Partner Registration Form and we will add you to our schedule!
Contact the Market
You can also find the West Bank Farmers Market on Facebook at www.facebook.com/WestBankMarket where you can find up to date information about market events, vendors and more. To sign up for weekly email upda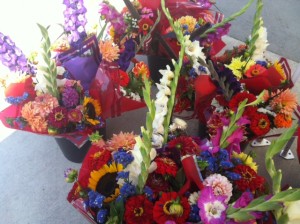 tes, email campuskitchen@augsburg.edu with "Market Listserv" in the subject.
Many of our vendors sell at other Minneapolis markets. You can find all Minneapolis' Farmers Markets at Homegrown Minneapolis.