Tuesdays, 11:30-1:30
Augsburg University Ice Arena
2323 Riverside Ave
July 11-September 26

The West Bank Farmers Market serves the Cedar-Riverside Neighborhood, including community members who live and who work in this vibrant community. Our markets run in the peak of the season, from mid-July to the end of September, bringing local farmers to the neighborhood to increase accessibility of fresh produce. The market accepts SNAP/EBT, WIC and Farmers Market Nutrition Program (FMNP) vouchers.
Minneapolis Mini Markets
While Minneapolis b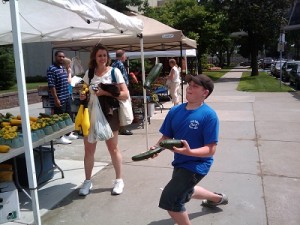 oasts several impressive farmers markets in many areas, several neighborhoods in the city are left with little to no options for purchasing fresh, healthy food from local farmers. The Minneapolis Mini Farmers Market Project was started by the Institute for Agriculture and Trade Policy (IATP) in 2006 to facilitate community organizations in bringing fresh food to their neighborhoods. Mini markets allow five or fewer vendors and sell locally grown food, fresh produce, and home processed foods, providing opportunities for small farmers and communities to come together around efforts to increase access to healthy food.
Why buy local?
Local produce is nutritious and affordable. Many Minneapolis farmers markets also sell organic produce, as well as flowers and artisan food and gifts. Purchasing food from local farmers supports the local economy and helps farmers to retain their livelihood. Farmers markets provide the opportunity to connect with the local families who planted and harvested the food. Farmers markets dramatically reduce the journey that food takes to your table and avoids costly, wasteful packaging and emissions. Most farmers markets are accessible by foot or bicycle, providing another way to reduce climate change.

WHERE TO FIND OTHER MARKETS
Check out the Hennepin County Farmers Market and Mini-Market map online!