Augsburg College is truly UNIQUE in being one of the few liberal arts schools in America that offers chapel every day. During these 20 minutes you will find a great variety of speakers and music. We encourage you to honor the moments carved out for you in the schedule that you might experience spiritual growth.  All are welcome!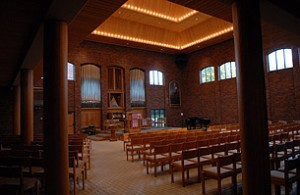 Daily Chapel
Join us Monday through Friday for daily chapel in Hoversten Chapel, Foss Center.
10:40am on Mondays, Wednesdays and Fridays; 11:30am on Tuesdays and Thursdays.
Monday, 10/27, at 10:40am: Dr. Paul Pribbenow preaching, Pres. of Augsburg College, "Generosity" (Rachal Hastings, piano)
Tuesday, 10/28, at 11:30am, Seminary & Divinity Day: Pr. Mike Matson, Chaplain to Student Athletes, preaching, "Vocation as Path"
Reformation Series: Untold Stories of the Reformation 10/29-31
Wednesday, 10/29, at 10:40am: Rev. Dr. Mark Tranvik preaching, Director of Christensen Center for Vocation and Professor of Religion (Many Isaacson, Viola)
Thursday, 10/30, at 11:30am:Erick Thompson preaching, Instructor, Religion Dept. (Leah DeSchepper, Kou Lee, and Michelle Grafelman: flute; Karlee Adler, piano) 
Friday, 10/31, at 10:40am Reformation Day: Josh Miller preaching, Instructor, Religion Department, "Luther on Wrestling with God" (The Chapel Brass) 
Wednesday Night Communion
Join us on Wednesday Nights for worship with Holy Communion at 9:30pm in Hoversten Chapel, Foss Center.
Wednesday, 10/29, at 9:30pm – Pastor Justin Lind-Ayres preaching; Hannah Schmit, student testimonial
Sunday Morning
Trinity Lutheran Church worships in our chapel on Sundays during the school year at 11 a.m. and there are also many different churches in our neighborhood in which students are encouraged to explore and attend.