Augsburg College is truly UNIQUE in being one of the few liberal arts schools in America that offers chapel every day. During these 20 minutes you will find a great variety of speakers and music. We encourage you to honor the moments carved out for you in the schedule that you might experience spiritual growth.  All are welcome!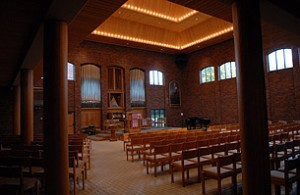 Daily Chapel
Join us Monday through Friday for daily chapel in Hoversten Chapel, Foss Center.
10:40am on Mondays, Wednesdays and Fridays; 11:30am on Tuesdays and Thursdays.
Monday, 10/20, at 10:40am: Global Worship, Sarah Funkhouser preaching, Young Adults in Global Mission (Nyssa Capman, flute)
Tuesday, 10/21, at 11:30am: Rev. Jack Fortin preaching, Senior Fellow for Christensen Center for Vocation (Alexandra Jamieson, vocalist)
Wednesday, 10/22, at 10:40am: Pastor Justin Lind-Ayres preaching, Associate College Pastor (Worship Band)
Thursday, 10/23, at 11:30am: Heritage Day, Dr. Darrell Guder preaching, Princeton Theological Seminary's Henry Winters Luce Professor of Missional and Ecumenical Theology (Mandy Isaacson and Shannon Smith, violin)
Friday, 10/24: Mid-Term Break – No Chapel Service
Wednesday Night Communion
Join us on Wednesday Nights for worship with Holy Communion at 9:30pm in Hoversten Chapel, Foss Center.
Wednesday, 10/22, at 9:30pm – Prayer Around the Cross with Patrick Joiner, Pastoral Intern, and the Worship Band
Sunday Morning
Trinity Lutheran Church worships in our chapel on Sundays during the school year at 11 a.m. and there are also many different churches in our neighborhood in which students are encouraged to explore and attend.