Augsburg College is truly UNIQUE in being one of the few liberal arts schools in America that offers chapel every day. During these 20 minutes you will find a great variety of speakers and music. We encourage you to honor the moments carved out for you in the schedule that you might experience spiritual growth.  All are welcome!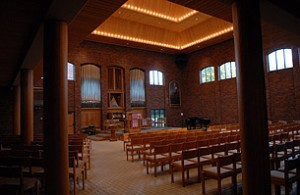 Daily Chapel
Join us Monday through Friday for daily chapel in Hoversten Chapel, Foss Center:
Mondays, Wednesdays and Fridays: 10:40am
Tuesdays and Thursdays: 11:30am
Monday, 11/17, at 10:40am: Worship planned by MUS432 Church Music and Worship students: Grace Lenhart and Emma Blom. Pastor Ruth Sorenson-Prokosch preaching. Special music: Grace, Emma and Taybri Irving.
Tuesday, 11/18, at 11:30am: Trans Day of Remembrance Chapel Service. Message from Ashley Allan, St. Thomas student. Augapella sharing their musical gifts.
Wednesday, 11/19, at 10:40am: Interfaith Mini-Convo – Pathways to Peace
Thursday, 11/20, at 11:30am: Chaplain Peter Muschinske, United States Navy, preaching. Cedar Singers sharing their gifts.
Friday, 11/21, at 10:40am: Augsburg Jazz ensemble
Wednesday Night Communion
Join us on Wednesday Nights for worship with Holy Communion at 9:30pm in Hoversten Chapel, Foss Center.
Wednesday, 11/19, at 9:30pm – Global Village, Global Song, Pastor Sonja preaching. Hannah Thiry, student testimonial.
Sunday Morning
Trinity Lutheran Church worships in our chapel on Sundays during the school year at 11 a.m. and there are also many different churches in our neighborhood in which students are encouraged to explore and attend.