Augsburg College is truly UNIQUE in being one of the few liberal arts schools in America that offers chapel every day. During these 20 minutes you will find a great variety of speakers and music. We encourage you to honor the moments carved out for you in the schedule that you might experience spiritual growth.  All are welcome!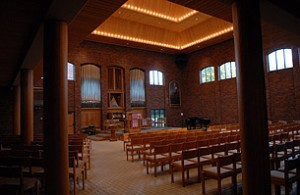 Daily Chapel
Join us Monday through Friday for daily chapel in Hoversten Chapel, Foss Center.
10:40am on Mondays, Wednesdays and Fridays; 11:30am on Tuesdays and Thursdays.
Homecoming Chapel Series Concludes on Monday "Come Home to Your Roots…Rooted in Christ"
Monday, 9/29, at 10:40am: Abby Schnedler '05, CCHP Counselor, preaching (Mandy Isaacson, violin; Max Bassinson, piano)
Tuesday, 9/30, at 11:30am: Dr. Diane Jacobson preaching, Professor Emeritus of  Old Testament at Luther Seminary and Director of the Book of Faith Initiative for the ELCA (Trevor Schaeffer, organ)
Wednesday, 10/1, at 10:00am: Christensen Symposium, Nadia Bolz-Weber, "The Spirituality of Being a Total Screw-up" – No Chapel Service
Thursday, 10/2, at 11:30am: Dr. Mary Lowe preaching, Associate Professor of Religion (Mary Kirchdorfer, harp)
Friday, 10/3, at 10:40am: Dr. Marty Stortz preaching, Bernhard M. Christensen Professor of Religion and Vocation (Jenna Leahy and Sophia Bauer, sopranos)
Wednesday Night Communion
Join us on Wednesday Nights for worship with Holy Communion at 9:30pm in Hoversten Chapel, Foss Center.
Wednesday, 10/1, at 9:30pm – Pastor Mike Matson, Praise with the Worship Band
Sunday Morning
Trinity Lutheran Church worships in our chapel on Sundays during the school year at 11 a.m. and there are also many different churches in our neighborhood in which students are encouraged to explore and attend.