Mathew believes deeply in the work of caring for and creating vibrant communities wherein people and creation are cared for, loved, and honored. Mathew understands this to be an expressing of his Christian faith.
He is passionate about liturgy.
Baptismal liturgies like this one from Evangelical Lutheran Worship, have helped him to understand his identity and commitments as a follower of Jesus:
"To proclaim the good news of God in Christ through word and deed,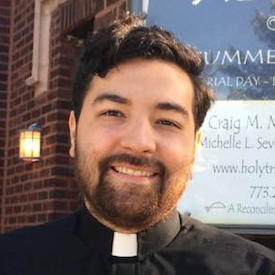 To serve all people, following the example of Jesus,
And to strive for justice and peace in all the earth."
Mathew values interfaith friendships which have deepened and enriched his faith.
He loves baseball, coffee and the music of Bruce Springsteen.
Mathew received his Bachelor's Degree in Philosophy and Religion from Truman State University in 2012. He served as Director of Youth Ministry at St. Paul Lutheran Church in Memphis, Missouri and as Youth Minister at St. Andrew's Episcopal Church in Kansas City.
Mathew is a seminarian at the Lutheran School of Theology at Chicago. He is serving as Pastoral Intern at Augsburg as he pursues ordination in the ELCA.