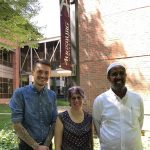 The following three individuals have been appointed as Augsburg's inaugural Christensen Interfaith Fellows for the 2017-18 academic year: Abdisalam Adam, Wendy Goldberg, and Chris Stedman '08.
The Interfaith Fellows are charged with deepening and extending Augsburg's calling to inter-religious engagement, preparing students to live and serve in contexts of religious pluralism. Their work will be coordinated by the Christensen Center for Vocation and includes participating in classroom and campus discussions and events; working with students named as Interfaith, Christensen, and Sabo scholars; and engaging with Augsburg's Interfaith Coordinating Committee and various religious groups on campus.
Abdisalam Adam – Abdisalam has worked as an English Language Learner teacher and Somali community specialist for the St. Paul Schools for more than 20 years. He currently teaches at Central Senior High School in St. Paul and will serve in an administrative role at St. Paul's Highwood Hills Elementary School this coming school year.

Abdisalam immigrated from Somalia to the United States in 1991 and moved to Minnesota in 1996. He is a board member of the Islamic Civic Society of America (Dar Al-Hijrah Mosque) in Minneapolis. He also serves on the advisory boards of Augsburg's EAST (East African Student to Teacher) program and the Center for Muslim-Christian Dialogue at the University of St. Thomas in St. Paul. Abdisalam currently is pursuing an Ed.D at Bethel University. He earned his master's degree from St. Cloud State University and his bachelor's degree from King Saud University in Riyadh, Saudi Arabia.



Wendy Goldberg – Wendy comes to Augsburg from her position as director of spiritual engagement at Shir Tikvah Congregation in Minneapolis, where she promoted accessibility, engagement, and enrichment through leading the musical aspects of prayer and guiding congregants in deep explorations of their spirituality. A veteran Jewish educator, Wendy encourages students to ask awkward questions — the ones they think they shouldn't ask. Many Augsburg students studied with Wendy at Shir Tikvah when researching diverse faith traditions.

Wendy is a native Minnesotan and a graduate of Hopkins High School; Brandeis University in Boston; the Jewish Theological Seminary in New York; and Pardes Institute of Jewish Studies in Jerusalem. She speaks Hebrew and Spanish. She also leads a Shir Harmony, a Jewish women's a capella group aimed at heightening spiritual experiences at lifecycle events. Wendy has created an innovative Bar/Bat Mitzvah program called, "Beyond the Barchu: What it Means to Be an Emergent Adult in the Jewish Community." Wendy's career in multicultural work began in 1988, when she served as a community liaison and guidance counselor for the Latino community at the Cambridge Rindge and Latin High School in Cambridge, MA.


Chris Stedman '08 – Chris is the founding executive director of the Humanist Center of Minnesota. Formerly the founding executive director of the Yale Humanist Community and a fellow at Yale University, Chris has also worked as a humanist chaplain at Harvard University and a content developer and trainer for Interfaith Youth Core. In addition to being named a Christensen Interfaith Fellow, Chris is serving as a fellow in Augsburg's Martin O. SaboCenter for Democracy and Citizenship, where he will facilitate and build new community partnerships for non-religious and interfaith civic engagement. 

Chris is the author of Faitheist: How an Atheist Found Common Ground with the Religious; has appeared on CNN, Fox News, MSNBC, and PBS; has spoken at hundreds of conferences and universities; and has written for publications including The Advocate, CNN, Huffington Post, MSNBC, The Rumpus, Salon, USA Today, and The Washington Post. He earned a master's in religion from Meadville Lombard Theological School at the University of Chicago and a bachelor's in religion from Augsburg.
Augsburg is blessed with the talents and experience of these community and faith leaders!