OMC! Christian Community in the Internet Age
June 15-20, 2014 at Augsburg College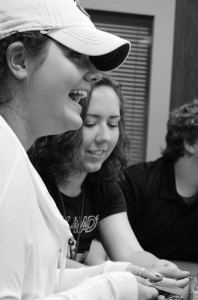 Instructor: Rev. Dr. Hans Wiersma
In our churches we confess each week that we believe in the communion of saints. Much has been written about what makes for community in the digital age. For example, how does your cell phone influence the way you experience Christian community? Does our technology enhance or hinder our experience of Christian community? We will investigate a variety of resources including theologian Dietrich Bonhoeffer and communication theorist Marshall McLuhen in an attempt to answer these questions.
Who is Eligible? Youth who have completed 9th-12th grade; want to engage in deeper conversations about faith, community, and vocation; and can attend the entire week of ACYTI.
Application Deadline: May 16, 2014
Cost: $250 (Includes housing, meals, and all program materials)
Pastors/Youth Directors: Nominate a High School Youth for this year's Institute
Learn more about WHY we have the Youth Theology Institute.