As Augsburg approaches its 150th Anniversary (in 2019), we continue to explore how our Lutheran heritage informs our callings.
November 3, 2016 –REFORMATION REMIX 
Augsburg College celebrated Heritage Day 2016 by creative engagement with contemporary issues of race and faith. The Reformation continues and the Augsburg community joined creative artists Agape* and Joe Davis in deepening our conversation on race and faith.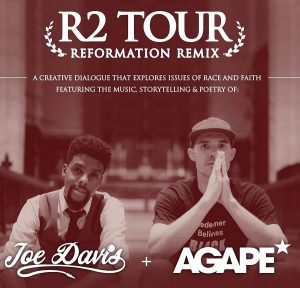 Schedule for 2016 Heritage Day
11:30am-11:50am  Chapel
12:15am-1:15pm Lunch discussion
Artist Bios
AGAPE* (Dave Scherer) has inspired hundreds of thousands of people from Brooklyn to Bosnia with his relational ministry "Hip Hop Outreach."  Combining rapping, dancing, storytelling and his fluency in Spanish, AGAPE* connects with his listeners in a way that they really "get it". He has recorded 10 albums and recently published a book entitled "Agap-ology". His ministry was also featured in a ABC documentary about people tackling food insecurity in America. These days you can find him at Luther Seminary where he works part-time as the Christian Public Leader coordinator. He is also a Qualified Administrator of the Intercultural Development Inventory.
Joe Davis is a multi-media spoken word poet, teaching artist, and community organizer based in the Twin Cities, Minnesota. Engaging wildly diverse audiences— from hundreds of interfaith and intergenerational marchers at the Selma to MN 50th Anniversary March to over 35,000 youth at the Ford Field Stadium in Detroit, Michigan—Joe Davis has a gift for bringing people together around honest poems, stories, and songs. One of six recipients of the 2015 Intermedia Verve Spoken Word Artist Grant, he founded a music collective, The Poetic Diaspora, while developing a classroom curriculum and producing a documentary film exploring the history of the Minneapolis-St.Paul spoken word scene. As a student and educator, he has served as teaching artist at dozens of high schools and universities and is currently the Artist-in-Residence at Luther Seminary, pursuing a masters in Theology of the Arts.
ABOUT OUR ANNUAL HERITAGE DAY
Augsburg was founded in 1869 by Norwegian Lutheran immigrants seeking to educate leaders for church and society.  Augsburg's Lutheran heritage — its "faith and values" — continues to shape its mission in the midst of a religiously diverse campus and neighborhood. Since 2005, Augsburg College has celebrated its founding by inviting notable guests to speak on subjects related to Augsburg's roots in the 16th Century Reformation of the Christian Church.  Heritage Day themes are aligned with the themes of the Luther Decade initiative. The Augsburg College Heritage Day (also known as "Founders Day") is a joint venture of the Augsburg College Christensen Center for Vocation, the Augsburg College Religion Department, and the Augsburg College Office of the President.