Sign Up for Notifications
Emergency Notification Services are emails, phone calls, and/or texts sent directly to you to notify you of campus emergencies, including weather closures, power outages, or potentially dangerous situations.
You can sign up or update your settings by logging into Augnet and clicking "Emergency Notification" in the "Augnet Services" menu.
Sign Up for Emergency Notification Services
Emergency Notification Services: The Full Scoop
All students, staff and faculty are encouraged to register for Augsburg Alerts, an emergency notification system operated by Augsburg University. Augsburg Alerts is an electronic communications tool to communicate timely information regarding active emergencies or weather closures via text message, voice mail, and/or e-mail to registered personal cell phones, landlines, or personal e-mail addresses.
Augsburg Alerts only will be used to communicate important information related to weather closings, or during an active emergency, to help individuals make sound decisions about their personal safety. Examples of situations in which Augsburg Alerts may be used could include natural weather events that lead to an unscheduled closing of the University, or for emergency situations such as a gas leak, fire, bomb threat, active shooter, power failure, or other event. Augsburg Alerts will NOT be used to notify the community of things such as enrollment deadlines, sporting events, or other non-emergency information.
Augsburg Alerts is only one communication method the University may use during a weather closing, or during an emergency, to disseminate timely information to help individuals make sound decisions about their personal safety. The University will continue to send notifications to augsburg.edu e-mail accounts, campus message boards, the Inside Augsburg homepage, and other appropriate communications tools.
Again, all current students, staff and faculty are encouraged to register for Augsburg Alerts. To learn more and sign up, follow these steps: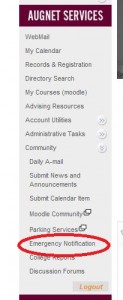 Go to Inside Augsburg. https://augnet.augsburg.edu/
Log in with your Augsburg username and password.
Select "Emergency Notification" from Augnet Services listings on the left side.
Enter contact information according to the manner in which you would like to receive Augsburg Alerts. Registrants can register as many of the following options as they choose to get Augsburg Alerts:

Cell phone text message (up to 2 cell phone numbers).
Voicemail via landline/home phone (1 home phone number).
By email (up to 4 e-mail addresses) to personal email account.

Authenticate the accounts by replying to a text/e-mail that is sent to the registered cell phone/landline/personal e-mail account.
Members of the community are encouraged to register for all three communication options. Doing so will help ensure registrants receive important communications regardless of whether on or off campus, and whether registrants have access to their cell phones or not.
Community members may choose to register a phone or e-mail address for a spouse or parent. This registration will count towards the total of 2 cell phone numbers, 1 landline/home phone, and 4 e-mail addresses available to each registrant.
Public Safety currently is undergoing a review of its Campus Emergency Procedures, All Hazards Plan, and Crisis Communications Plans. We will continue to send updates as they become available.
Questions?
For questions about Augsburg Alerts, please contact Public Safety at 612-330-1717 or just dial 1717 from a campus phone.
For assistance signing up, please contact your department's LFC or the IT Student Help Desk at 612-330-1400.