Getting to Campus
Directions to campus can be found online here. Our address is:
2211 Riverside Avenue, Minneapolis, MN 55454
Check-in on the first day of the Institute will be in the Oren Gateway Center lobby.
Oren Gateway Center is situated parallel to and faces Riverside Avenue between 21st and 22nd Avenues.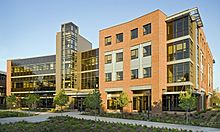 Parking: Motorized Vehicle
Registered class participants will be able to download and print a parking permit. Permits are required 24-hours a day, 7 days a week. An email notification will be sent once the parking permit is available for download.
Please note: Street parking on-campus is a combination of Augsburg and City of Minneapolis controlled-streets. Green and white signs indicate City of Minneapolis parking. Please pay close attention to hour limits. City of Minneapolis patrols often and will ticket violators.
The parking permit is for Lot L only. Parking elsewhere may result in ticketing or towing. An exception may be made for those with a handicap placard, see the next section for details.
Parking for Limited Mobility
There are designated Handicap Parking Spaces on campus. A Handicap placard must be displayed, or Handicap plates must be on your vehicle to park in these spaces. It is also necessary to display your downloaded parking permit.
Parking: Bicycle
We welcome bicyclists.
Bicycles may only be parked and locked to official bicycle racks. Bicycles parked along fences, handrails, or signposts will be impounded. Unclaimed bicycles will be donated to local bicycle restoration organizations.
Please note, we will not be able to provide space within the building to store bicycles. Refer to the Bicycle Parking Map for spaces to secure your ride.
Light-Rail Commuters
Augsburg University is located near the Franklin Avenue stop on the Hiawatha Light Rail Line (METRO Blue Line).
Leave Light Rail at Franklin Avenue stop. Follow the street that loops around the buildings on the right, stay on that road and you will see the large intersection that needs to be crossed. Your goal is to navigate to 20th Avenue South which is the bridge that crosses over the Interstate. You will want to be on the right-hand side of the bridge.
Turn onto 8th Street at the Augsburg University sign/tennis courts. Proceed on 21st Avenue towards Riverside Avenue, Oren Gateway Center (OGC) will be on your right.
Check-In
Initial day check-in for all workshops will be in the lobby of the Oren Gateway Center (OGC). Check-in begins at 7:30 a.m. On subsequent days registrants should go directly to assigned rooms.
Room assignments are given upon check-in. A name tag and brochure featuring room assignments, campus map, and instructions to access wireless internet will be distributed.
All other materials will already be placed into assigned rooms.
Daily Schedule
Workshops run approximately 8:00 a.m.-4:30 p.m. each day. Consultants may adjust times to meet the needs of the participants, typically that means it's possible the day might extend a little longer the first three days in order to leave a little earlier on the last day of the Institute. Each workshop will be 30 classroom hours of instruction over 4 days. Attendees are encouraged to review the course syllabus for details.
Lunch & Snacks
Arrival: Coffee and water will be available in the morning upon check-in. Should you wish for additional beverages during the day, please bring them from home or bring change or credit card for the vending machines.
Lunch: Your workshop will be assigned a time for lunch each day, approx. 30 minutes. Lunch times will fall somewhere between 11:30 a.m. and 1:00 p.m. The meal will be a held in Augsburg's Dining Center. There is a private area reserved exclusively for APSI attendees. Those needing or desiring a gluten-free option should select request upon workshop registration.
Afternoon Snack: Will be made available in OGC 115 Conference Room.
Augsburg offers Pepsi products in their vending machines. A person with a ready supply of ice-cold Coca-Cola products and an entrepreneurial spirit could really clean up. But seriously, if you need your daily Coke, make sure to bring it with you. The alternative is running to the Jimmy John's just down the street.
Credits & Times
Attendance for all 30 contact hours is required to receive a College Board certificate. Registration for the AP* Summer Institute implies agreement to attend all class sessions for the full meeting time.
Certificates
Certificates are issued on the last day of the Institute to participants who have attended all class meetings and have paid-in-full registrations. If you are unable to attend all contact hours of your course we can prepare a letter for you that verifies the hours you did attend in lieu of the official certificate. Each workshop has been approved for 3.0 Continuing Education Units (CEUs). Clock hours are not academic credit.
lodging
Lodging is not included in the tuition.