Andrew L Aoki
Professor, Chair of Political Science and Sabo Fellow
Memorial Hall 111B
CB 53
612-330-1634
aoki@augsburg.edu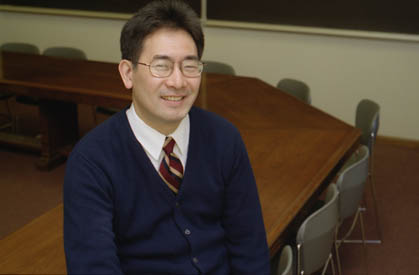 "My general teaching philosophy follows C. Wright Mill's view in 'The Sociological Imagination,' where he argues that social scientists should help others see how their individual lives are connected to the 'big picture.' So all my classes are designed to help students connect some of their own experiences with the course material. Of course this requires considerable student participation on the connections."
Andy came to Augsburg in 1988. He started out in high school wanting to be a physicist, lawyer or musician, but his interest in public affairs led him to political science.
He said Augsburg is one of a number of good places to study political science due to its strengths, one being easy access to a wide variety of field experiences, including, but not limited to, internships. The proximity of the school to the Twin Cities means more opportunities for students.
In addition to the common areas of study, American politics, international relations, comparative politics, law and politics, and political theory, Augsburg also offers expertise in environmental politics, media and politics, and racial and ethnic politics.
"We help our students succeed primarily through close contact. Our classes are relatively small and enable us to give students very intensive help. We also tap into our political science alumni to help students find internships and other opportunities."
Education
B.A. University of Oregon
M.A. University of Wisconsin-Madison
Ph.D. University of Wisconsin-Madison
Current research interests
His research focuses on debates over the American identity, particularly those related to issues of race and ethnicity.
Publications
He has published work on immigration and multiculturalism, and was an associate editor of The Encyclopedia of Minorities in American Politics (Oryx Press).
Areas of Teaching and Responsibility at Augsburg University
Andrew Aoki specializes in American political thought, and teaches courses in political theory and American politics.
Website