Username not found or not unique: (&(objectclass=inetorgperson)(cn=boecher)) :0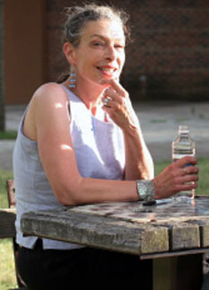 SUSAN BOECHER, began teaching at Augsburg College in 2006. Her creative practice spans over 20 years and continues to emphasize social research and activism through community-driven photography. She recently establishedOverExposure, a media arts nonprofit that partners photographers with nonprofit groups on theme-specific photography projects.
In 2006, she was a HECUA artist in residence and has received grants from the Jerome Foundation, the Minnesota State Arts Board, and Arts Over Aids. Her work is held nationally in private and public collections. Susan is at work on a documentary project that examines contemporary Midwest culture, the uniqueness of its landscape, and the manner in which families and communities create, celebrate, and deny quality free time together.
She also teaches at the Minneapolis College of Art and Design, IFP- Minnesota, and has taught at Dakota County Technical College and Metropolitan State University.
Education
B.F.A. Photography, University of Minnesota
Classes
Recent Artwork:
Yellowstone, black and white infrared photograph, 20" x 24", 2001
Teddy, black and white infrared photograph, 20" x 24", 2004
Scarecrow Battlefield, black and white infrared photograph, 20" x 24", 2006