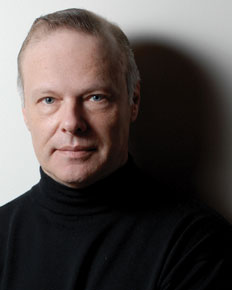 It is with great sadness that we share news that Augsburg College faculty member and friend, Doug Diamond (shown), assistant professor of Music, passed away unexpectedly on Friday, May 27, 2016.
Doug was a member of the faculty in Augsburg's Music Department beginning 2005. He received his Bachelor of Music and Master of Music degrees from The Mannes College of Music in New York. He was a candidate for the degree, Doctor of Musical Arts, at the University of Missouri's Kansas City Conservatory.
At Augsburg, Doug was known for his strengths in developing orchestral ensembles and in classroom teaching. He served as the director of Augsburg's orchestra and taught a variety of courses, including Aural Skills, Materials of Music, and Instrumental Conducting.
Music Department Chair, David Myers, notes that "Doug's students appreciated his wit, his musicianship, and his understanding of their many commitments even as he insisted on excellence in performances and class work. Doug contributed actively and positively to the work of the faculty and department, most recently working closely with admissions to develop a system of identifying incoming students who have music interests and backgrounds. Doug's candor and positive efforts on behalf of music, students, the department and Augsburg College will be sorely missed."
As we celebrate Doug's life, work, and gifts, our community's thoughts and prayers go out to his extended family and friends.
Memorial Services
New York:
details pending
Augsburg College:
The Music Department will host an event in remembrance of Doug Diamond in Murphy Square on Saturday, August 27th from 3-6PM. Brisket, prepared to Doug's specifications, will be served. If you'd like to speak and/or play music in the park you are invited to do so. A time to remember, laugh, grieve, and be grateful for the memories and lessons learned. Please help spread the word!
For more information, contact Jill Dawe at dawej@augsburg.edu and/or Tina Brauer at brauer@augsburg.edu