Christina Erickson
Associate Professor, BSW Field Coordinator
Memorial Hall 6
CB 51
612-330-1704
ericksoc@augsburg.edu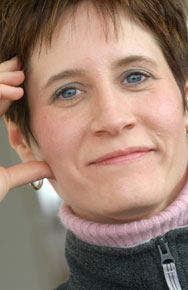 Deep learning requires hard work on the part of students and faculty, but the work is fulfilling.  In every class I teach, from Social Work Practice with Groups and Families to Environmental Justice and Social Change there are a few key elements I hope students take away.  A recognition of their personal selves as change agents is most important.  A willingness to face their flaws, embrace them, and then push forward into continued learning is also rewarding.
Augsburg College offers an academic home that allows me to explore the interface of humans and our world.  Research, community collaborations, and most of all – being with students and teaching –  creates a wonderful space for learning, growing and changing over the life span.
Education
BS, University of Minnesota
MSW, University of Minnesota, Duluth
PhD, University of Illinois at Chicago
Research and Grants
2012-2014, Co-Principal Investigator: New York Community Trust Fund – National Macro Social Work Licensing Study. Research partners include faculty from Catholic University of America, University of St. Thomas, University of St. Catherine and the University of South Florida. Two year grant totaling $47,500.
2008 – 2011, Principal Investigator: Hartford Partnership Program for Aging Education – selected through a national, peer-reviewed process to implement an innovative field and community partnership program to develop gerontology social work specialists. Three year grant totaling $75,000.
2006- present, Research Partner: Wakanheza – a partnership of the Ramsey County-St. Paul Department of Public Health, the St. Paul Public Schools, the Minnesota Department of Education and numerous community organizations. Wakanheza is a program using evidence based practices to change the cultural climate of organizations and communities. These practices decrease behaviors that fall on the continuum of violence and encourage practices of pro-social behavior among members.
Research Interests
Macro social work
Community peace producing initiatives
Environmental social work
Gerontology education
Teaching
2004-present – Augsburg College, Department of Social Work
Social Work 210:  Environmental Justice and Social Change
Social Work 301:  History and Analysis of Social Policy Social Work 307/317: Field Seminar
Social Work 316:  Methods with Families and Groups
Social Work 506: Practice II: Methods with Families and Groups
Social Work 515: Theories of Families
Social Work 516: Community Development for Social Change
Social Work 668:  Organizational Practice II
Social work 699:  Interdisciplinary Perspectives on Aging
2012 – United International College, Social Work and Social Administration Programme, Zhuhai, China
Social Work 4130: Social Work with Families
Social Work 2180:  Human Behavior and the Social Environment
General Education 2010: Environmental Justice and Social Change
Publications
Erickson, C.L. (forthcoming).  Older Adults and Sustainble Policy in a Global Perspective. (Eds) Link, R., and VanWormer, K.  Sage.
Plitt-Donaldson, L., Hill, K., Ferguson, S., Fogel, S., & Erickson, C.L. (revise and resubmit).  Macro Social Work Licensing:  Impacts on Education and Practice.
Erickson, C.L. Gault, D. & Simmons, D.  (in review).  The Wakanheza Project:  A Public Health Approach to the Primary Prevention of Family Violence.
Hamilton, B. & Erickson, C.L. (2012). Urban Heat Islands:  A social work perspective.  Advances in Social Work, 13(2), 420-430.
Erickson, C. (2011) A Gift Never Given and a Keepsake Taken Away. Cairns, Fall, Unity Universalist Press, Minneapolis.
Erickson, C.L. (2011).  Environmental Degradation and Preservation in Link, R. and Healy, L. Handbook for International Social work.  Oxford University Press.
Hill, K. Ferguson, S.M. & Erickson, C.L.  (2010).  Strengthening and Sustaining Macro Social Work:  A replicable model.  Journal of Community Practice. 18(4), 513-527.
Erickson, C.L., Lee, S. &  Mattaini, M.A. (September, 2009).  A community prevention approach to peaceful schools:  Application of Wakanheza.  School Social Work Journal 34(1). 43-60.
Erickson, C.L. (2008).  Wash 'em, don't toss 'em: This mom wants restaurants to reuse kids' cups.  Minnesota Women's Press, 24(17), 5.
Erickson, C.L. (2007).  Living with Parkinson's Disease:  How Social Workers Help.  Health Section Connection, Issue 1, 6-7.
Erickson, C.L. (2007). Social Work Practice and Parkinson's Disease. In L.M. Grobman & D.B. Bourassa (Eds.), Days in the Lives of Gerontological Social Workers.  White Hat: Harrisburg, Pennsylvania
Erickson, C.L. (2006).  Living with illness – your options: Parkinson's disease services available to individuals and families. www.helpstartshere.org, National Association of Social Workers.
Erickson, C.L. (2006).  Kitchen table recovery.  Affilia: Journal of Women and Social Work.  Spring, 21(1), 106-107.
Erickson, C.L. &  Muramatsu, N. (2004).  Parkinson's disease, depression and medication adherence:  Current knowledge and social work practice.  Journal of Gerontological Social Work, 42(3/4), 3-18.
Erickson, C.L., Mattaini, M.A., and McGuire, M.S. (2004).  Constructing non-violent cultures in schools: The state of the science.  Children and Schools 26(2)102-116.