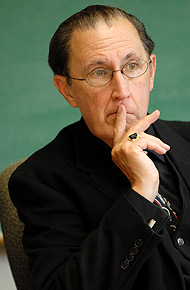 Professor Markus Fuehrer's main area of research is focused on medieval philosophy. At the present time he is working on preparing a critical Latin edition of the medieval philosopher and theologian Henry of Ghent's "Summa Quaestionum Ordinariarum" in cooperation with the University of Leuven, Belgium. He is also working on the history of the use of dialogue form in medieval philosophy.
"As a professor I focus on the teaching of medieval philosophy along with ethics and introduction to philosophy. I, as other members of the department, believe that it is important in the education of students of philosophy to work closely in the tutorial mode as much as possible. Therefore, I offer tutorial independent studies to students who have interests along my own lines."
Professor Fuehrer has taught at Augsburg since 1971. His others areas of interest, outside of philosophy, include: the reading of German literature, particularly the poet Goethe; classical music; chess; literature in general; medieval history; and the study of paleography.
Education
B.A. University of St. Thomas
M.A. University of Minnesota
Ph.D. University of Minnesota