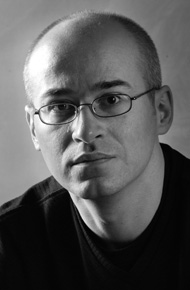 Vladan Milenkovic received a classical piano training in former Yugoslavia since his early childhood. He also developed an interest in jazz and improvised music from his early age. While studying biology at the University of Belgrade, Vlad had led his acclaimed jazz trio in former Yugoslavia before receiving a scholarship to study jazz composition at Berklee College of Music in Boston in 1991. After spending some years working as a freelance performer and a music instructor in Boston, he completed his Masters degree in Jazz Pedagogy at University of Northern Iowa, and is currently Assistant Professor of Piano Performance at Berklee College of Music in Boston.
A powerful pianist with prodigious imagination and refined technique, Vlad merges acoustic and electronic mediums into emotionally charged sound-images, which range from beautifully austere to exuberant to fairy-tale like. The depth of his music can be overwhelming. His compositions often transcend categorization, bringing together vocabularies of various cultures and epochs, East and West, jazz and classical, ancient and postmodern, groove and silence, Balkan roots and electronica beats. He performed or recorded with many known and unknown musicians from various music cultures, including Jeff Coffin, Anthony Cox, Peter Erskine, Antonio Sanchez, Matthew Garrison, Ben Monder, and Dave King.
Education
Master of Music (Summa Cum Laude) – Jazz pedagogy. University of Northern Iowa, Cedar Falls, Iowa, 2005.
Bachelor of Music (Magna Cum Laude) – Jazz composition. Berklee College of Music, Boston, Massachusetts, 1994.
University Studies – Biology. University of Belgrade, Belgrade, Serbia and Montenegro, 1987-1990.