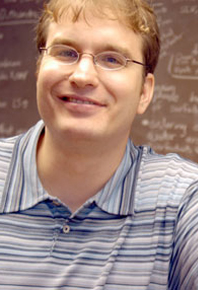 Ben Stottrup joined Augsburg's physics department in 2005. He believes that "one of the best ways undergraduate physics majors can learn is by engaging in independent research projects." Ben is excited to be at Augsburg because it offers opportunities to work in a small college setting where faculty are able to directly interact with and guide student research projects in a metropolitan setting.
Ben's research concentrates on understanding biophysical mechanisms for life processes. Specifically his research focuses on how the thermodynamics of lipids contribute to the behavior of cell membranes. He is also interested in comparing the behavior of lipid monolayer and bilayer systems.
"As a teacher, my role is to provide an encouraging environment where students are challenged to take ownership of their education in and out of the classroom. It is my hope that students in my classes will gain an appreciation for the predictive power of science in the natural world."
Before coming to Augsburg, Ben worked in lipid biophysics at the University of Washington where he studied the miscibility phase transitions of lipid monolayer systems. He previously taught at Seattle Pacific University. When not at Augsburg, Ben can often be found playing guitar and enjoying a variety of American styles of music including bluegrass, rock and roll, jazz and folk.
Education
B.A. University of Minnesota, Morris
M.S. University of Washington
Ph.D. University of Washington
Current Research Interests
Lipid mixing and miscibility phase transitions
Biophysical properties of cholesterol in membranes
Lipid monolayer and bilayer comparisons