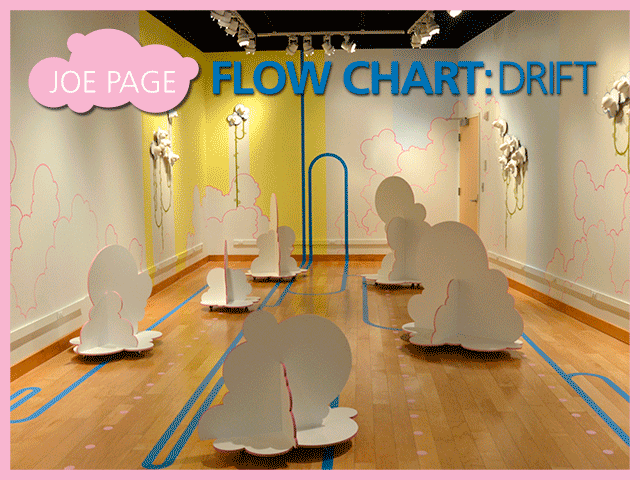 The pop-infused, mixed media installations of Joe Page's "Flow Chart" series propose landscapes that are both physically interactive environments and distant cartographical maps. Fluctuating pathways, points, and vibrant color fields sprawl in all directions, propelling the viewer along an immersive journey of varied rhythm, scale, and space within the gallery.
November 4 – December 18, 2014
Artist Talk: November 3, 8:30 – 9:30 a.m. Oren Gateway Center, Room 113
Artist Bio: Joe Page received his BA in Studio Art from Knox College in Galesburg, IL and his MFA in Ceramic Art from the New York State College of Ceramics at Alfred University. He currently lives and works in Edwardsville, IL where he is head of ceramics at Southern Illinois University.
Artist Statement: The escapist allure of immersive environments drives my work, orienting the viewer in a place of comfort and curiosity. The vibrant colors, reductive imagery, and illustrated movements within the "Flow Chart" series of installations are deceptively simple, derivative of early video games, pinball machines, mass transit maps, and schematic diagrams. Within this framework, one soon begins to uncover the world's underpinnings: a rules-based system of sculptural parameters, compositional logic, and spatial relationships.
Gage Family Art Gallery – map
Hours: M – F, 8 a.m. – 8 p.m.; Sat. & Sun. 9 a.m. – 5 p.m.
Image: Flow Chart: Vortex, porcelain, vinyl, polystyrene, mdf, wire, 2014