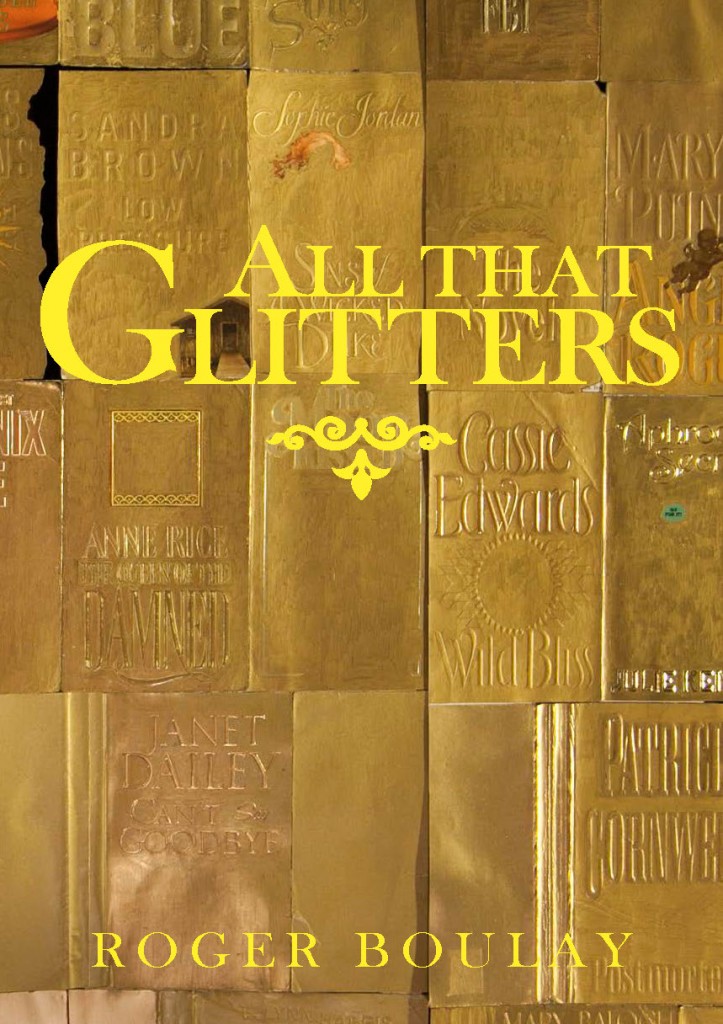 For Boulay's installation of over 1,000 gold paperback book covers, he collected pulp and popular fiction paperbacks with gold-embossed elements and meticulously painted the remainder of each cover gold. The work raises questions about value, taste and permanence.
Exhibition Dates: January 12 – March 12, 2015
Closing Reception: Thursday, March 12, 6:00 – 7:30 p.m.

Artist Bio: Roger Boulay is originally from Massachusetts. He earned an MFA from the University of New Mexico in 2011. He moved to the region in 2013 and now lives and works in Winona, Minnesota with his partner and two dogs. He has exhibited his work nationally.
Artist Statement: My work is about transition, precariousness and beauty. My current work uses books to investigate notions of instability and erosion. In this work, stories are layered upon one another, visible in fragments that collide and connect. I am exploring literal and metaphorical entropy at the intersection of language and material culture. For the last eight months I have been working on a site-specific installation. This piece involves over 1,200 popular fiction paperback book covers. Each cover has been selected because it contains gold-embossed lettering. I paint around each gold element with gold paint so that the entire book cover is covered in gold. It is detailed and methodical work. I am curious to see how erasing or camouflaging gold with itself could make the viewer think about the cultural and monetary value we associate with both gold and popular fiction.
#RBallthatglitters